4th Annual CTAUN Conference
Atlanta, 5 February 2011
College of Education, Georgia State University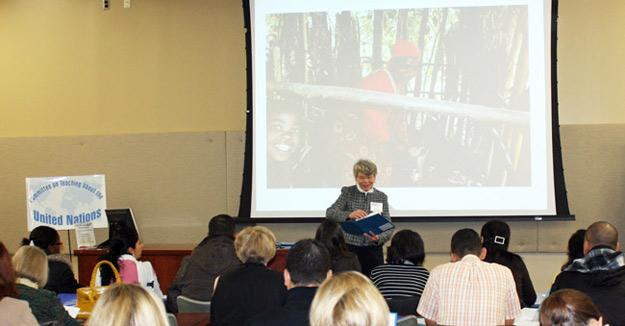 EDUCATING FOR ACTION: THE UNITED NATIONS AS A RESOURCE
WELCOME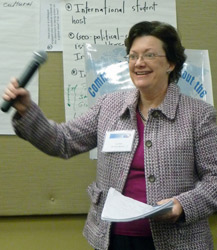 Cynthia Brown, Co-Chair, CTAUN Atlanta Steering Committee, welcomed the participants to the conference and shared with them the exciting agenda planned for the day. She then introduced Anne-Marie Carlson, Chair, Committee on Teaching About the United Nations (CTAUN), who gave a brief history of the organization and explained the mission of CTAUN, which is to provide educators with opportunities to learn about the work of the United Nations and international concerns and to bring their knowledge into their classrooms to develop global citizens.
MORNING KEYNOTE
Steve Hollingworth
Chief Operating Officer and Executive Vice President of Global Operations for CARE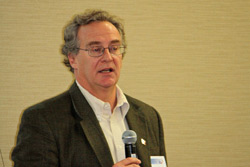 began by sharing how the Millennium Development Goals (MDGs) are game changers in addressing global poverty. He described the life experience of a 24-year-old mother who married at 16. Because a wife in her country is seen as a possession, not a partner, she is solely dependent on what her husband can give her. Since he is a migrant worker, what the family eats is mostly limited to what he can give her, mainly seeds to grow beans, wheat and corn. She's experiencing poverty in a remote area and has no voice in family planning.
Mr. Hollingworth said that the majority of women (70%) in very poor countries make less than a $1 a day, and nearly 1.2 billion people are critically poor. For further understanding of this global problem, he suggested two books, Unbowed: A Memoir by Wangari Maathai (2007) and The Spirit Level: Why Greater Equality Makes Societies Stronger by Richard Wilkinson and Kate Pickett (2009). He stressed three important questions:
• How do we meet the challenges of global poverty?
• How do we live peacefully together?
• How do we develop sustainable resources?
The 8 MDGs, developed to eradicate the social reasons why people are poor, provide a great opportunity for developed and developing countries to share in the responsibility of meeting the targets. The MDGs are about people, about measurable objectives to improve people's lives. Based on 15-year indicators, they are a realistic statement about what is possible. Forced, robust indicators are the ends, not the means. They have already begun to work energizing action.
Research has shown that where there is less poverty, there is less crime, less childhood disease and less childhood death. Nigeria's rate of measles infection has gone down 3%. Bangladesh has reduced its under age 5 mortality rate from 145 out of a thousand to 72. Finland has a mortality rate of 4 or 5 per thousand. The collective world targets poverty in India at 30% and Africa at 50%, although Africa has improved their trend line over the last 25 years. To learn more about the challenges in making changes in economic growth, Mr. Hollingworth recommended Emerging Africa: How 17 Countries Are Leading the Way by Steven Radelet (2010).
PANEL DISCUSSION
"Educating for Action: The MDGs and Local Response"


Moderator Dr. Henry (Chip) Carey, Associate Professor of Political Science at Georgia State University, opened the discussion with an overview of the Millennium Development Goals. Each panelist then gave a brief description of information to be expanded in greater detail during the lunchtime breakout sessions.
Steve Hollingworth discussed the progress that has been made in accomplishing the goal to eradicate extreme Poverty and Hunger by 2015.
David Donaldson, US Fund for UNICEF, focused on Universal Education. He stated that in 60 developing countries 90% of the children are in school.
On the topic of Global Health, Ann Krueger, Professor of Educational Psychology, and Bryan Williams, Associate Dean for Research and Scholarship, both at GSU, concentrated on maternal and child health along with child trafficking. The #3 money-maker after drugs and weapons for the global criminal network, child trafficking is far larger than the Atlantic slave trade was, involving at least a million people per year.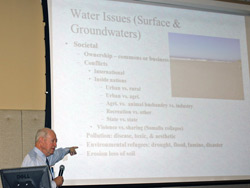 Environmental engineer Robert Jarrett narrowed the huge topic of Environmental Sustainability/Climate Change to the importance of water and the decline of water tables worldwide.
Cora Weiss, President of The Hague Appeal for Peace, and Azadeh Shahshahani, Director of the National Security/Immigrants' Rights Project at the ACLU of Georgia, tackled the issues of Global Partnership/Gender Equity, especially those being addressed at the UN. Countries with great gender equity have made more progress.
A Q&A Period followed.
BREAKOUT SESSIONS
Poverty and Hunger
Moderator Steve Hollingworth opened the sessions with introductions of a very diverse group of participants, including teachers, students, and a few international organization representatives from Poland, Cambodia, Uzbekistan, the Czech Republic, Colombia, and New York, and their local counterparts from Atlanta, Athens, and Kennesaw, Georgia.



Mr. Hollingworth offered some big view perspectives on the issues of global hunger and poverty and then invited teachers from Cambodia and Uzbekistan to share some descriptions of their working conditions, which gave us all a much more personalized picture. Riem and Mao, two teachers from Cambodia, described the population of parents in their school districts as being about 95% farm workers who struggle to provide basic food and housing for their families, and could easily be wiped out financially by a spate of bad weather. Classes in their schoolrooms are typically very crowded, with 70 or 80 students in a room, three or four students sharing a single desk. The Cambodian teachers also mentioned the good results of a relief agency program in their area that had broadened educational opportunities for girls, and especially praised a program that taught children community projects that could improve the safety of their drinking water.
Senor Renaldo, a native of Colombia who now works with Atlanta Public Schools, pointed out how in Colombia, as in so many countries struggling with poverty, a huge portion of the national budget is spent on military ventures, with less than one percent going for education, food relief, and other needs that a nation must address to reach any of the 8 MDGs.
Janet Gibbs, an educator who recently worked with the Extension Service in Athens, Georgia, talked of working with school systems in Liberia, and how, facing a lack of funding through government sources, she and others had worked through churches to raise money for the schools, and had helped a school organization set up a brick-making business, which not only provided the bricks needed for building new schoolhouses, but also allowed for the production of bricks sold to raise money to help fund the programs in the new schools.
Fatima, an English teacher from Uzbekistan, and mother of two young children, also offered a view of the state of education and family life in her country. A participant in the Teach Excellence and Achievement (TEA) exchange program facilitated by the State Department, she is glad for the chance to learn different teaching approaches and systems from educators in the U.S.
The value of person-to-person interaction and firsthand accounts when teaching about poverty, hunger, and other global issues was particularly evident to this discussion group, which also included Patrycja Horodyska, a Polish native living in Atlanta, who offers to take teachers visiting here from other countries on a shopping trip to the international grocery stores in town.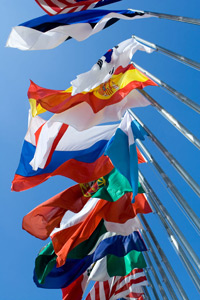 Max Woo, a 10th grade student in the International Studies Program at North Atlanta High School, and Ludek Jando, an exchange student from the Czech Republic, also at North Atlanta, were particularly thrilled with the teaching program that Ken Hill, an advisor with Kennesaw State University's Center for Student Leadership, has laid out for the roughly 3,500 freshman students at KSU. KSU's creative teaching trends were pretty exciting to all participants, and fortunately, Ken had prepared a handout of several of the program's highlights and additional resources, which were later shared with all the CTAUN conference participants. One favorite feature of KSU's global curriculum is the adoption of a "Common Reader," a list of books with international themes that all students can read and discuss, including Three Cups of Tea, Not for Sale, and Outcasts United, a documentary of a soccer team made up of students from refugee families that started right here in Georgia. Other facets of KSU's global education program include study abroad, work with international relief organizations, fundraisers on campus, and up-to-date research of global issues through on-line news and social media.
The minute-to-minute accounts of the revolution happening in Egypt during this day of the conference, which different members of our group related from time to time throughout our discussion, highlighted the relevance and real-time excitement and teaching opportunities new media offer not only to those learning in the classroom, but also for all of us.
Everyone in this discussion group seemed glad to get scores of great ideas for gathering and sharing information that could, in one way or another, help all of us move a bit closer to making the Millennium Development Goals attainable, and our world a bit more livable in centuries to come. That said, no one in this particular discussion denied that right now, the news looks bad. No conference can try to cover the issues of hunger, poverty, war, environmental disasters, sex trafficking, unsustainable consumption, hunger, and more, and not expect a sobering dose of depressing facts on file. But on the flip side, this was a conference not just about problems, but about solutions, and it was blessed with the involvement of some great people who are actively changing things for the better. More than anything else, this conference was a chance to personally meet and hear these leaders who are already doing good work, and to learn from their example.
A most inspiring example of a reformation from tragedy to hope came from one of our most senior discussion group members, Janet Gibbs (see above), who has retired from her job as an extension agent in Athens. When Janet saw on the news, how literally thousands of pairs of scissors and clippers were being collected from passengers at the Atlanta airport after 9-11, she wondered what was happening to those confiscated goods. Before too long, she had arranged for these practical household tools to be donated to women's sewing groups and other organizations that can make great use of such goods in countries where a simple pair of scissors can be a lifesaver.
Universal Education
David Donaldson led the participants in a discussion of the challenges and roadblocks to universal education due to the lack of awareness of global issues in education curricula.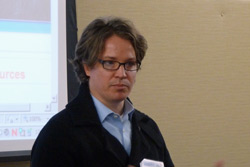 Participants shared strategies to help overcome these challenges, such as teaching world geography and getting involved in exchange programs and via penpals or e-pals. Oxfam, Heifer, Operation International Children (started by actor Gary Sinise), Coins for Clowns and Pennies for Peace are good projects for school and community participation and learning.
A participant who teaches at an International Baccalaureate school shared one of the features of the IB program that crosses all grade levels. Known as the Learner Profile, it helps students to be inquirers, thinkers, communicators and risk-takers who are knowledgeable, principled, open-minded, caring, balanced and reflective. This is what we want all learners to become. This would be our definition of someone who is globally competent.
Global Health
Moderator Ann Kreuger and Bryan Williams were joined by Mark Hoerrner, Southeast Regional Director of Not for Sale, an anti-trafficking organization. They first discussed issues concerning premature birth and infant mortality. When a woman's births are eighteen months or more apart, the chance of a premature birth decreases. Factors that lead to infant mortality are the environment, unsafe drinking water, war, and lack of health care.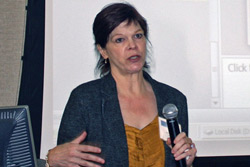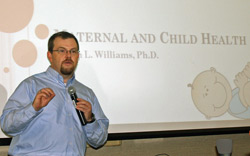 The group also discussed the issue of human trafficking, especially of girls. Atlanta is a hotspot for this very lucrative business. Arms and drug traffickers are turning to human trafficking because it is not easily detected. The best way to prevent human trafficking is to educate children at an early age and provide them with strategies so they are not so vulnerable. Girls who are most vulnerable usually have nobody in their lives they can trust and/or are in desperate situations. Several programs were shared that serve to find children/girls and return them to their homes and provide rehab and support to survivors.
Environmental Sustainability/Climate Change
Moderator Cherilyn Morrow, Professor of Physics and Astronomy & the STEM Director at GSU, Ann Griffth, Third Grade Teacher at International Community School, and Robert Jarrett led the discussion of issues faced in several communities in relation to environmental sustainability.

They were joined by participants representing eight countries: Argentina, Cambodia, Colombia, Kazakhstan, Morocco, Nicaragua, Wales, and the United States. This diversity gave a very global perspective to the topic. Issues raised varied depending on location, from no recycling options to the lack of valuing water. Ideas were shared to assist in teaching students, young and old, to value water. All agreed that education is key in helping students and citizens understand and value the importance of water to human survival.
Global Partnership/Gender Equity
Moderator Cora Weiss and Azadeh Shahshahami welcomed a diverse group of participants from Morocco, Poland, Ecuador, Uzbekistan, and the US to discuss how to encourage female students to succeed. A Moroccan participant spoke of needing to also encourage males, as they frequently do not try. Then African-American students and faculty spoke up that the USA has some of the same problem, as a large proportion of our current college population of people of color is female. Consequently, when females graduate and enter the work force, it is very difficult for them to find mates of the same socio-economic status.
Early education teachers suggested we need to stress gender equity very early, in pre-K and Kindergarten and at the grass roots level. Others suggested it should begin even earlier, in the home, to avoid stereotyping. The need for activist mentors was also introduced. A GA State Professor of Education specializing in Curriculum made three important points:
• We should pay attention to our own behavior. Studies show that teachers call on males for one type question, while relegating other questions to female students.
• "Teaching to the test" doesn't have to be crippling. Incorporate development of a particular type of skill in a non-gender specific example.
• Projects for students can include such diverse partnerships as Heifer, small businesses, CARE, and micro-credit.

Ms. Weiss suggested investigating various categories for role models: Nobel Prize Winners and Peace Laureates and biographies of local luminaries that have been translated into English. Ms. Shahshahani suggested that excellent films, such as The Visitor and El Norte be used to introduce discussion of the immigrant experience.
Participants suggested that relatives/parents of immigrant children could be invited to share their experiences in the classroom, but strongly stipulated that this should be done only to the extent that the speaker is completely, without question, comfortable. Final suggestions were that classes could begin at grassroots level with such organizations as the ACLU and Amnesty International, in addition to CARE and Heifer.
MEDIA PRESENTATIONS
Kakenya
A girl in Kenya breaks tradition, goes to school, later builds a school for her community, and earns a Ph.D. www.vitalvoices.org/story-kakenya.
The Girl Effect
A UN Foundation animated film emphasizes the positive effects of helping an adolescent girl. www.thegirleffect.org.
Reports from the Breakout Sessions were shared.
CLOSING KEYNOTE
Cora Weiss
President, The Hague Appeal for Peace,
opened her closing words with wise advice from Maya Angelou, "When you learn, teach. When you get, give."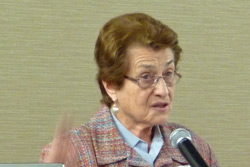 Before focusing in on her major points re: the relationship of the Millennium Development Goals with the roles of women and girls globally and with the place of peace in the arena of the United Nations, Ms. Weiss commented on the up-to-the-minute political situation in the Arab world and an overview of non-violent protest in the last 50 years.
In her words, "Clearly this is not a religious revolution. It is not an anti-US or anti-Israel protest. It started in Tunisia where people rose up and the dictator, Ben Ali, fled. A poor young man, a street vendor, was harassed and humiliated by a woman cop and immolated himself. That quickly ignited a non-violent protest about freedom, dignity, poverty and jobs. It is a revolution for democracy, for participation.
"From 1974-1989, 30 countries went from dictatorships to democracy non-violently. Many were known by their colors: Orange Revolution in the Ukraine, Purple in Georgia, the Saffron Revolution hasn't been won yet in Burma. There was even a Penguin Revolution in Chile, where high school and university students protested tuition increases in schools non-violently and won.
"What action would you take," she asked conference participants, "if you were president or secretary of state or a senator or member of Congress or delegate to the UN? We can also take action as members of civil society. Public opinion is a non-violent, important weapon, a way to influence policy."
Ms. Weiss cautioned us not to forget the history of Georgia and other southern states. She reminded us that in l960, 140 delegates from 46 protest centers in the South launched mass sit-ins at lunch counters, even at Richs', now closed, in Downtown Atlanta. Dr. King was arrested and sent to a federal penitentiary, and John F. Kennedy made the famous phone call to Coretta Scott King. It was the non-violent actions of students that led to Dr. King's arrest and a phone call that then led, in great measure among other actions, to Kennedy's election in 1960. Dr. King went to Morehouse College. There's a huge wonderful history in the Atlanta area of non-violence and public opinion changing American history. It was all "educating for action." Education both formal and non-formal, what is learned in the home and in the community.
"If I and others hadn't organized women in the 1960's against the war in Vietnam," she said with pride, "and if I and others hadn't taken the risk of going to Vietnam and bringing home three prisoners of war, if I and others hadn't participated in the drafting of what became Security Council Resolution 1325 on Women, Peace and Security, and if I and others hadn't been the leaders of the Hague Appeal for Peace that published the 50-point agenda for getting from a culture of violence to a culture of peace, I doubt I would be standing here today. So non-violent risk taking is part of American history."
Ms. Weiss then focused in on the United Nations and its work with the MDGs in relation to women and girls, small arms, and peace. First, she reminded us of Dag Hammarskjold's pronouncement: "The UN was not created to take us to heaven, but to prevent us from going to hell." And then she commented that the 8 MDG issues are "a very tall order" that "must be seen as an integrated package, each dependent on the implementation of the others."
She summarized several recent achievements of the UN Development Program (UNDP), headed by Helen Clark, former Prime Minister of New Zealand, including a global Human Development Report, work with community-based bio-diversity initiatives in several countries, and a program in Papua New Guinea to support more women taking seats in parliaments.
Expanding on information shared earlier in the day, she told us that the four organs that combined to form UN Women had less than 1% of the UN budget, while women are 70% of the world's poor. Therefore, adequate funding is going to be the first requirement for its sustainability.
Women suffer dreadfully in many countries: many are denied an education and adequate food and a voice in political and economic decision making. Gender inequality leads to poverty, which prevents economic growth and even connects with climate change. "As crops wither from drought," she said, "women responsible for gathering must walk further until they eventually become environmental refugees."
However, Ms. Weiss stressed that the voice of women in civil society is strong. Member states talk about climate change and civil society women talk about the gender dimension to climate change. "They talk about development and we talk about needs specific to women, such as women participating in the decisions about the distribution of humanitarian aid, relief supplies, training, and equal participation in post conflict peace building. They talk about peacekeeping and we talk about training peacekeepers in 1325 and 1820 on sexual violence to sensitize all peacekeepers from the commander on down to respect women and girls, to protect women and girls, and to see that women are party to any decision making in the communities."
There is much to accomplish still. Though women are only 8% of negotiating delegations and less than 3% of peace agreement signatories, we have succeeded in creating a climate in which women and girls must be taken into account. Article 25 of the UN Charter stipulates that all member states agree to accept and carry out the decisions of the Security Council. Thus, women can say that SC Resolution 1325 on Women, Peace, and Security means full and equal participation of women, at all levels of governance and in peacemaking, prevention of violence, and protection during violence.
Next, in view of the recent massacre in Tucson, the gun violence at Columbine High School, the shoot out at Virginia Tech, Ms. Weiss gave attention to the UN's effort to reduce the flow of illicit small arms. She reminded us that "34 Americans are killed by a gun every day. We have nearly 9 guns for every 10 people, and 9 out of 10 of our homicides are killed with one of those guns. Not one other country comes even close."
A UN State Plan of Action to combat the illicit trade in small arms is not yet binding, but there is a meeting every two years to measure the progress of countries enacting legislation to outlaw illicit arms. The Plan of Action is related to the Arms Trade Treaty, which is in negotiation and means there is a greater awareness today of the danger posed by the illegal trafficking in small arms. "Indeed," she said, "ask any woman raped under threat of a gun, … and she will tell you not only to imprison the rapist, but also to destroy the gun."
For the first time in the history of the UN's First Committee on Disarmament, a woman Prime Minister of Trinidad/Tobago, a small island state, has asked all member states to promote the equitable representation of women in decision-making with regard to matters of disarmament, non-proliferation, and arms control.
Ms. Weiss then moved to her third major point, the human right to peace. Peace is not a word used in the MDGs, though Dom Helder Camara, Brazil's former Archbishop, has said that development is another word for peace. And nowhere in the Universal Declaration of Human Rights does it explicitly say that peace is a human right, though the UDHR calls for many of the rights that make peace possible. After all, peace is not the absence of war, but the presence of justice, which precludes violence.
The next major civil society initiative to come to the United Nations is the Santiago Declaration on the Human Right to Peace, December 2010. Drafted four years ago by a group of Spanish lawyers, it has traveled around the world and has been vetted in 50 countries by civil society organizations, and is on its way to the Human Rights Advisory Council and then to the General Assembly of the UN.
The Declaration has 15 Articles divided into Part I, Elements of the Human Right to Peace, which enumerates all our rights and obligations, and Part II, Implementation of the Declaration. This Declaration gives us the most holistic and far-reaching inclusive definition of peace.
The key is speaking about human dignity. Nelson Mandela once wrote, from his cell on Robben Island, in a letter dated March 1, 1971, "Never, never under any circumstances, say anything unbecoming of the other." The Declaration spells out that we must never humiliate or marginalize or put people down because of their color, beliefs, gender, economic or educational status, culture, and more.
Another key not only supports the right to education for everyone, but also calls for education to unlearn war and proposes peace education. Peace education includes teaching for and about gender equality, human rights, disarmament, social and economic rights, sustainable development, and traditional peace practices. It calls for the methodology of participation, critical inquiry, and reflection.
The Declaration insists on equal rights for men and women. It is deliberately gender sensitive, and should become a role model for future resolutions. It speaks of peoples, recognizing our diversity, of participation in non-violent conflict resolution. It calls for elimination of weapons of mass destruction, and for prohibition of the glorification of war.
If the UN does not succeed in adopting this resolution, it is available for civil society to adopt. It opens the door for peace groups to work with women's organizations, with environmental organizations, and with human rights organizations.
Ms. Weiss re-emphasized the need to integrate the 8 Millennium Development Goals through the lens of peace, but stressed that the right to peace should not be lost in a human rights corner or a peace corner, but should instead be seen as an essential tool for the democratic survival of humanity.
She closed her words with special thanks to four writers who believed in the power of dreams. Eleanor Roosevelt – "The future belongs to those who believe in the beauty of their dreams." Carl Sandburg – "Nothing happens unless first a dream." Dom Helder Camara – "When we dream alone, it is just a dream, but when we dream together, it becomes a reality." Harriet Tubman – "Always remember, you have within you the strength, the patience, and the passion to reach for the stars to change the world."