14th Annual CTAUN Conference, 18 January 2013 – United Nations, NY
"ADVANCING SOCIAL JUSTICE: THE ROLE OF EDUCATORS"
Anne-Marie Carlson, Chair of CTAUN, opened the conference, welcoming attendees and highlighting the day's focus on Economic Inequality and Human Trafficking, "the improvement of which," she said, "we at CTAUN regard as essential to achieving greater social justice."
She announced that 456 people had registered for the conference. In addition to US educators at all levels, the largest group included 53 Fulbright scholars from 25 countries in, Asia, Africa, South America, Europe, and the Middle East, engaged as Teaching Assistants in 40 American colleges and universities in 22 states and the District of Columbia. Arrangements were made through CTAUN member Sr. Rita Arthur and staff of the Institute of International Education (IIE) with whom CTAUN has a long-standing relationship. Other groups included students and faculty from Nassau Community College,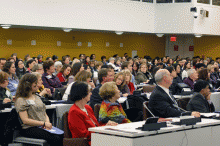 Mott Haven High School in the Bronx and Rutgers Prep in Somerset, New Jersey.
Ms. Carlson then described the contents of the conference folders, encouraged attendees to visit our Info Fair, coordinated by CTAUN member Ruth Nielsen, and went on to introduce Under-Secretary General for Communications and Public Information Peter Launsky-Tieffenthal, who gave the official UN welcome.
Mr. Launsky-Tieffenthal began by bringing greetings from Secretary-General Ban Ki-moon.  He commended CTAUN for incorporating global awareness into curricula at all levels, and for working to help students understand the UN, its promise and its potential, what it does do, and what it should do.
He pointed to a poll taken on January 16, 2013 by the Better World Campaign, showing that approximately 8 out of 10 voters believe that it is in America's best interest to actively engage in and support the UN. He took a moment to pay tribute to Maestro Joseph Eger, a physicist and musician, who, in creating a symphony orchestra for the United Nations, made it clear that there is no academic discipline that does not have a United Nations dimension, and who epitomized the joy and fun that can come with teaching and learning.
To mobilize this sense of responsibility and self-realization in young people, the Secretary-General has announced the appointment of an Envoy on Youth, Ahmad Alhindawi of Jordan, to address the needs of the "largest generation of youth the world has ever known." The belief that nurturing attitudes in young minds is the primary vehicle for achieving social reform began in the 1920's and 30's with the "progressive education movement", which called for a renewal of democracy through civic education. However, school curricula rarely concentrated on the skills needed to do this. Instead of focusing on preparing youth for participatory, inter-dependent global social justice, we placed overwhelming attention on the acquisition of academic and vocational skills.
He believes that we develop social consciousness among our students through our own connectedness, our identification with justice, social equity and morality, and our sense of a larger purpose and meaning in life. Likewise, that students, when presented with real-life stories that illustrate strong moral character and social responsibility can reflect on their own behavior, and better understand the contribution they can make towards building a better world.
The Under-Secretary General pointed to the UN's Holocaust Remembrance Program www.un.org/en/holocaustremembrance as an example of this. He also mentioned the Department of Public Information (DPI)'s global observance of Human Rights Day, www.un.org/en/events/humanrights calling for high school students worldwide  to research human rights themes, and, over the course of a 3-day video-linked conference, develop human rights campaigns for their specific communities.
A third UN activity involving students was a contest co-created by the United Nations Academic Impact and the Brookings Institution, with input from Anne-Marie Carlson of CTAUN in judging the winners. The goal was to invite students to imagine a speech the Secretary General could deliver to the General Assembly. Concepts expressed by the three winners included:
Understanding a problem before venturing to resolve it
Urgency in dealing, not just with emergencies, but with persistent situations of deprivation as well
Compassion for the stranger -"Do Unto Others As You Would Have Others Do Unto You" – the Golden Rule of Social Justice
MORNING KEYNOTE – Focus on Economic Inequality
Thomas Pogge, Leitner Professor of Philosophy and International Affairs, Yale University, and Adjunct Professor of Law, Yale Law School,  gave a power point presentation which began by contrasting the growth in life expectancy over the past 250 years (from age 45-85) and the growth in income in the West, with the inequality in the rest of the world "still living in the Middle Ages", where 2 billion people lack medicine and 1 billion lack clean water, electricity and other essentials. "Statistics," he told us, "over-represent those who live long lives." He added that one-third of deaths are poverty-related. Since the Cold War, 400 million people have died of preventable diseases such as malaria, measles and malnutrition, diarrhea, TB, HIV-AIDS etc. as compared to 200 million in the entire twentieth century, who died from violence, war, and gulags etc. One-third of all human lives are lived in the bottom fifth of the population.
Due to globalization, in the 17 year period between 1988 and 2005, household income of the top 5% went up 3.5%. All others lost income, and the bottom level went from 1.16% to 0.8%. This effect he attributed to "regulatory capture"  – the concept that people and governments interested in rules will influence the design of rules, making competitive systems vulnerable.
Inter–governmental bargaining in the World Trade Organization (WTO),
Supra-national lobbyists who can lobby unopposed, because those countries without democracy have no possibility of rebellion or transparency
Protectionism, agricultural subsidies, secrecy, tax havens, genetic engineering of seeds and lack of global labor standards all favor the elite.
National violence and corruption, borrowing to buy soldiers in order to maintain power, and the arms trade all perpetuate misrule in developing countries.
Poverty develops differently in different countries, he told us.  The argument that because countries like China and India do well, despite those elements listed above, and therefore, that global rules are irrelevant, is tantamount to saying that teachers are irrelevant because some students do better than others.
Everyone is entitled to social and international order.  The status quo shaped by multinationals does not allow for participation by the poor.  That needs to change at the international level.  For this reason, the UN's Millennium Development Goals (MDGs) are being renegotiated for the coming 15 years, moving from a general wish list to a list of responsibilities of named competent actors for all governments and multinationals.
To view the power point presentation click here:   CTAUNpogge
MORNING PANEL – Economic Inequality: Its Global and Local Impact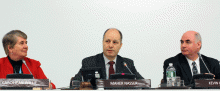 The morning panel was moderated by Maher Nasser, Director of the Outreach Division, Dept. of Public Information (DPI) at the United Nations. He began by sharing a special issue of The Economist magazine on "The World in 2013," and quoted World Bank lead economist Branko Milanovich as saying that "Inequality is by definition, social. You can only be unequal if there is someone else."
As an example, he compared Norway, which appears as the richest country per capita, with a population of 5 million, a gross domestic product per head of $100,340, and a purchasing power of $63,690, with Zimbabwe, which has a population of 12.7 million, with a GDP per head of $197 and a purchasing power of $204.
He pointed out that inequalities are increasing not only at the global level, as was discussed by Thomas Pogge, but within countries as well. For example, in 1980, CEOs of the largest American companies earned an average of 42 times as much as the average worker. They earned 531 times as much by 2001. From 1980 to 2005, more than four-fifths of the total increase in American income went to the richest 1 per cent.
To discuss the global and local impact of this inequality Mr. Nasser introduced the panel speakers Carol Jean Willie and Kevin Cassidy.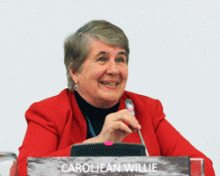 Carol Jean Willie, NGO representative of the Sisters of Charity Federation, who has worked as a teacher, teacher –trainer and cross-cultural consultant in the US, the Caribbean and Latin America, did a slide presentation focusing on the impact of Climate Change.  She began with a frightening quote: " While preventing the risk of a future climate catastrophe means cutting emissions immediately, we have passed the point of preventing the consequences of climate change in the decades ahead. The challenge now is to avoid the unimaginable, and manage the unavoidable."
She went on to say that climate change violates human rights and destabilizes societies through civil conflict, and that those least responsible and with fewest adaptive mechanisms are the most vulnerable to its effects.
She cited a 20-year agricultural study in India, where, in one rural district, forests have become depleted, and with less rainfall, many rivers are dried or filled with silt.  Twenty years ago, the average temperature from April to June was about 35 degrees Centigrade. At present, it has gone up to 44-48 degrees C. from March to mid-July –(approximately 120 degrees Fahrenheit.) In that period crops have changed drastically from wheat and rice, which also served as fodder for cows and buffalo, to more heat-resistant crops.  With shortage of fodder, depleted forests and water resources, farmers have had to sell their cows and buffalo, and now can raise only goats and pigs. At present, there is little sense of community, as adults (mostly men) leave for six months of the year to seek work in big cities, and women and children go to nearby villages in search of day labor. Children's education suffers as a consequence.
From an interview with former Ambassador Donatus St. Aimee of St. Lucia, she pointed to the fisheries sector, where, due to rising seawater temperatures, algae are decreasing. As a result, pelagic fish, which are migratory and live close to the surface of the water, no longer have a food source. So fishermen, who used to bring in a plentiful supply daily, now go out every other day and bring in half as much. As sea waters rise, people living along the coasts, the majority of the population, will have to move to higher ground inland, where replacement costs for housing are much higher. In St. Lucia too, education suffers. Secondary schools require money that is no longer available for transportation, and students end up dropping out.
In Kenya there are water wars between the Turkana and Pokot tribes.
What is needed, in addition to accountability, and a shift in policy priorities that builds climate awareness into development projects, is improved access to high-quality information about the impact of climate change, and a sharing of technology. She urged educators to mainstream climate change into educational programs at all levels, so that informed decision making and choices reflect world realities. In answer to an audience question about how to get around the political opposition to teaching about climate in some school systems, she said, "Don't call it 'climate change'. But teach it anyway."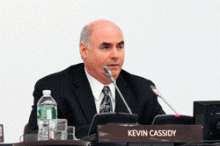 Kevin Cassidy, Communications and External Relations Officer for the UN's International Labor Organization (ILO), gave us a brief history of its beginnings with the Treaty of Versailles, and the League of Nations, with the goal of giving voice to people in the workplace. "Lasting peace," he said, "can only be based on social justice. Labor is not a commodity, they're people. Poverty anywhere is a threat to prosperity everywhere."
He gave us an anecdote about three brothers in Brazil, who worked at a project, clearing forests for three years. Although, they were promised money for their families, they were told they had incurred debt for their water, lodging, chain saw equipment etc., and therefore made no profit. When they brought in additional family members to help out, their "debt" only increased, making them virtual slaves.
Although the cost of assisting a village to survive independently may be as low as $450, if given outright to families who have never seen such funding, it is more likely to be spent in celebration than on village needs.  What must be done is to set up an account for them for purchase of land, tools, oxen, and seeds, payment of wages etc., which, after four years, may be turned over to them.
He spoke of the "yoyo" ("you're on your own") economy, and said that since deregulation in the 80's, wages have not kept up with productivity. The concept of harder work equaling higher pay is decoupling. Although China has taken 400 million people out of poverty, most of the rest of the world is in austerity, and we are moving away from sustainability. Nine hundred million workers earn less than $2.00 a day.
He spoke about some of the myths of the marketplace – the idea, for example, that taxing the income of the wealthy will make a difference. Upper income people make their money not through income, but through investments and dividends. At the other end of the spectrum, the poor have a string of economic activities in the streets, but no jobs that come with the security of protections. Collective bargaining seems to be on the way out.
Another myth is the faith of some people that, if left alone, the marketplace will eventually right itself. We need legislation to intervene, but laws mean nothing if they're not enforced. In Tanzania, for example, there are 17 inspectors for 1.7 million businesses.
In the US, we need to create 600 million jobs to keep up with population growth. "People with jobs," he said, "contribute more to the society, through their purchasing power and charities, than the few with higher incomes. The generosity of the poor is overwhelming."
He spoke about his own interest in history, thanks to teachers in his life, and the distressing fact that the NY State Board of Regents, in its emphasis on common core subjects, has been phasing out history. Global history is optional. The ILO has been communicating with Governor Cuomo and the president on the importance of keeping history in the curriculum.
When asked about how the UN holds countries accountable for follow-up on their ratification of treaties, he acknowledged that the UN cannot force a country to comply. The UN is a "talk shop", but talk and building relationships are important. Also, governments must report their national legislation to the ILO once a year, and workers can bring cases to the ILO.
CTAUN BEST PRACTICES AWARDS and POSTER SESSION RECOGNITION
Two BEST PRACTICES Awards, coordinated by CTAUN member, Joan Goldstein, were presented.
The first went to Louann Shrader, State President, and Karen Ball, Projects Chair, of the Pennsylvania chapter of Delta Kappa Gamma for their  Support for Africa Project.   
The second award went to Bill Hunter and Iveta Silova, of the Lehigh University College of Education.  
For details on these and past winning projects, as well as to see images of the winning posters (see below), please go to the "BEST PRACTICES AWARDS" section.
POSTER SESSION – coordinated by CTAUN member Thomas Ward, who  introduced the 9 student winners from 7 colleges and universities, including The NY School of Visual Arts, Dominican College, the International College at the University of Bridgeport, Fordham University School of Law, John Jay College, Baruch College of Public Affairs and Buffalo State College. Winning posters, on the themes of Economic Inequality, Human Trafficking and Educational Opportunity, were displayed in the conference room. All of the artists were young women, and each had a personal story of a living experience with one of these themes. The artists were individually awarded a Certificate of Recognition by CTAUN Chair, Anne-Marie Carlson.  Their posters can be seen in the BEST PRACTICES AWARDS  section.
SPOTLIGHT – UN iPhone App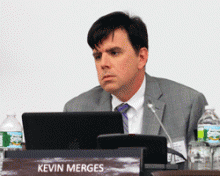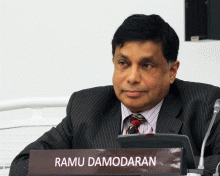 Ramu Damodaran, Director of the United Nations Academic Impact, introduced Kevin Merges of the Rutgers Preparatory School, in Somerset New Jersey,  who created a UN iPhone App for use by students around the world, especially in areas where teachers are not available, schools are non-existent or students have been displaced by warfare or natural disaster.
Six young men and their computer science teacher Pablito Lake, accompanied Mr. Merges to explain the various features of the App. The goal is to expand student knowledge of the history and workings of the UN through English language and communications lessons. Other features include vocabulary, audio-text of the lessons, games, mini-crossword puzzles, and UN-TV news and information feeds.  An iPad App is being created, and the Android version will be released on March 7th. Future Apps are planned for each of the Millennium Development Goals, plus hygiene, disaster preparedness, mathematics, Model UN and literacy in all languages.  Congratulations to the Rutgers team on their  vision.
The App (currently for iPhone only) is available free from iTunes: https://itunes.apple.com/us/app/unepdapp/id595093669?mt=8
LUNCH and the CTAUN INFO FAIR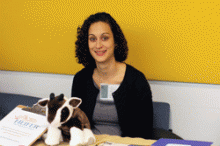 During the lunch break conference attendees could check out displays and educational information from UN and Non- Governmental Organizations (NGOs) active in the area of the conference topic.
Exhibitors included:  American Association of University Women (AAUW), Amnesty Int'l (AIUSA), Child Rights Campaign, Fair Trade, Girls Educational and Mentoring Services (GEMS), Heifer International, Lawyers Without Borders, Polaris Project, Sisters of Charity Federation.
UN agencies exhibiting included
United Nations Office of the Secretary General for Children and Armed Conflict,
United Nations Food and Agriculture Organization (FAO),  and
United Nations Educational, Scientific and Cultural Organization (UNESCO).
The US Dept of State, Office to Monitor and Combat Trafficking in Persons had a display.
There was also a CTAUN information table.
Websites and contact information for exhibitors and presenters were included in the conference folders,
and will be posted in the "TEACHER RESOURCES" section of the CTAUN website.

AFTERNOON PANEL –Focus on Human Trafficking

Trafficking in Persons: An Ongoing Injustice moderated by Piero Bonadeo, Deputy Representative, UN Office on Drugs and Crime (UNODC)
The UN Office on Drugs and Crime has 42 offices worldwide, and deals with organized crime, human and drug trafficking, money laundering, and smuggling of migrants and firearms.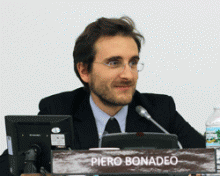 Mr. Bonadeo gave us a statistic of 20.9 million victims for labor and sex.  Child victims have increase from 20-27% between 2007 and 2010, and 55-60% are women.
He spoke of the UN's Comprehensive Plan of Action to Combat Trafficking in Persons, and the 2011 Voluntary Trust Fund for Victims of Trafficking, where financial, legal and personal aid goes to victims via NGOs. He believes that, guided by the wisdom of survivors, considerable progress has been made over the last 10 years in terms of awareness of the issue, and urged teachers to bring this awareness to our communities and classrooms. He then introduced the afternoon panel.
Mr. Kerry L. Neal, Child Protection Specialist, Justice for Children, UNICEF spoke first. His message was mixed, emphasizing both the growth in awareness and the complex challenges facing those trying to implement change.
Mr. Neal shared the conditions existing when he first became involved in work on combatting trafficking in Macedonia in the late 1990s, where UNICEF was asked by the Ministry of the Interior to address the issue of two Romanian girls, aged 15 and 17, carrying no passports or documentation, who had been found working in a brothel on the border with Kosovo. At that time, trafficking was understood as a criminal justice issue, but the mechanisms to be able to respond to the victims' needs – finding shelter, helping them prepare for the journey home, and making sure they were returned to the care of their families – was lacking everywhere.
Over the past 15 years, international conventions and action plans, like the Palermo Protocol, www.palermoprotocol.com in which trafficking was recognized not just as a criminal justice issue, but as a human rights challenge, began to change all that. The present challenge is in the concrete implementation of commitments and the lack of effective coordination.
A critical element in ensuring effective coordination, is to overcome the misconceptions surrounding the issue.  One misconception involves looking at Trafficking only as a transnational crime, committed only by organized crime, affecting only girls and women for sexual exploitation. We know today that trafficking occurs within our own borders, and is not always undertaken by organized criminal groups. Boys and men are also trafficked, and in some regions, labor exploitation is far more prevalent. It is worth noting that successful prosecutions for trafficking globally can be counted in the hundreds, rather than in the thousands.
Mr. Neal contrasted the 'supply' side of trafficking – concentration on those who were seen as vulnerable, with the more recent interest in identifying and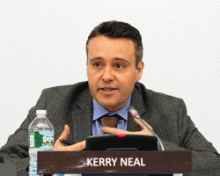 addressing factors that contribute to the 'demand' for trafficked persons. This targets the prime motivation for trafficking, the potential profit generated for the criminals involved, from selling the services or products made by trafficked persons. He pointed out that consumer interest plays a big part in changing behavior. He gave as an example, clothing and equipment being sold at the 2012 London Olympics, where the share price of one of the sponsors suffered a steep drop when a newspaper revealed that much of its manufacturing was done by exploited labor, and urged readers not to buy from them.
Addressing demand requires a shift in the focus of existing efforts and priorities. It is important to recognize that there are political obstacles to making this shift, because it threatens the status quo.  Many authorities are unwilling to acknowledge that trafficking occurs in their territory, particularly where businesses have benefitted from the use of cheap and docile workers. Further, few states have been inclined to deal with the delicate trade-related issues surrounding the importation of goods produced by trafficked workers. UNICEF continues to partner with UNODC and ILO in the focus on Demand.
UNICEF also works in different world regions on the issue of child protection.  In Asia, UNICEF facilitates collaboration between the social welfare and justice sectors in training programs in Cambodia, China, Myanmar and Vietnam. Similarly, in Africa, they work with Benin, Gabon, Togo, Congo, Nigeria and Ghana on coordination. In South Asia, they work to ensure child-sensitive repatriation in India and Bangladesh. And in Latin America, in Costa Rica and Guatemala, UNICEF works to raise awareness among children and caregivers in high-risk communities.
UNICEF supports many countries' efforts in developing 'safe-school' environments. He pointed out that teachers are part of the 'front-line' workers well placed to identify children who may be experiencing problems at home or in the community, which could make them vulnerable to trafficking. It is important to note, however, that child trafficking is not a 'stand alone' issue. It interfaces with migration, abuse, neglect, war, job loss and even natural disasters. Very rarely can a single factor be pinpointed as the sole reason a child is pushed into trafficking. Until and unless we address the issue of trafficking holistically, the results will be visible only at a symptomatic level. "There is nothing wrong with addressing the symptoms," he added. "The problem arises when we fail to address the root causes that are ingrained within our systems."
Mr. Neal thanked CTAUN for working to expand awareness on these issues.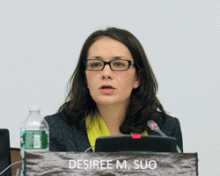 Desiree M. Suo, Foreign Affairs Officer, Office to Monitor and Combat Trafficking in Persons, US Dept. of State, also gave us a brief history of the work of her office. It was established in 2000 in accordance with a mandate of the Trafficking Victims Protection Act (TVPA) updating the post -Civil War statutes on slavery, and furthering the guarantees of freedom set forth in the US Constitution and articulated in the Universal Declaration of Human Rights. The office, led by Ambassador–at-Large Luis C. de Baca, pursues policies, partnerships and practices that uphold the "3P' paradigm of protecting victims, preventing trafficking and prosecuting traffickers.
In its annual Trafficking in Persons (TIP) report, www.state.gov/j/tip/ris/tiprpt/2012 the Dept. of State assesses 186 countries and territories, based on their governments' efforts to comply with minimum standards. Over the past 10 years, their International Program section has supported some 450 projects in 109 countries, awarded to NGOs, to include law enforcement training, victims' services and public awareness.
By definition, Ms. Suo told us, trafficking is modern-day slavery. Trafficking in Persons includes any victim, regardless of whether he or she gave their initial consent, participated in a crime as a direct result of being trafficked, were transported into the exploitative situation, or were simply born into a state of servitude.
Forced labor may result when unscrupulous employers exploit workers made vulnerable by high rates of unemployment, poverty, crime, discrimination, corruption, political conflict or even cultural acceptance of the practice. Immigrants are especially vulnerable, but they also may be exploited in their own countries. Women and girls in domestic service may be forced into sexual activity as well. Sex trafficking can also occur through debt bondage, through unlawful 'debt' purportedly incurred through their transportation, recruitment or sale. This is exacerbated when the worker's status is tied to the employer in temporary work programs, and there is no redress for abuse.
She added that President Obama's voice is crucial to the effort. " Human trafficking is not a business model; it's a crime, " he said in a speech at the Clinton Global Initiative (CGI) last September. This year is the 150th anniversary of the Emancipation Proclamation, and January is Anti-Trafficking month. She urged communities to monitor the supply chain for signs of trafficked labor.
AFTERNOON KEYNOTE
Rachel Lloyd  is the Founder and CEO of Girls Educational and Mentoring Services (GEMS), which is this year celebrating its 15th anniversary. Born in England, she is the author of a book entitled Girls Like Us (Harper Perennial, 2011), which details her extraordinary life and mission. Growing out of her own experience as a sexually exploited teen in Germany, where the sex industry has been legalized, Ms. Lloyd is currently an advocate, here in NY City and beyond for minors forced into prostitution against those who would criminalize them.
She described vividly the situation of these girls. Many are in adult prisons, some as young as 12 years old, because they have been told to give their age as 17. They are mistreated by teachers and social workers who make a distinction between trafficked victims from foreign countries and teen prostitutes in the US. These girls have never heard of, or met survivors, nor do they think healing possible. No funds are directed at domestic trafficking, and calling the police is just as frightening, since some have been raped and bought by police as well.
She pointed out that you don't have to be chained to a wall to be enslaved. Most are not locked in, but are psychologically chained, by fear, loyalty or love. As Dr. Richard J Estes of the University of Pennsylvania has said: " Child sexual exploitation is the most hidden form of child abuse in the United States and North America today. It is the nation's least recognized epidemic."
She added that the biggest indicator of success in saving girls is zip code. The more educated seem to have a better chance, and political and social response she believes, would be much greater if the girls for whom she advocates were from the middle or upper classes. But rescuing doesn't dismantle the trafficking situation, and, though state laws still need to be changed to reflect federal legislation, (NY is the first state to have safe-harbor laws for victims on its books) legislation is not enough.
Ms. Lloyd had a number of suggestions for ways in which educators can help.  She urged us to promote mentoring programs and to pay attention to one child at a time.
Volunteer in after-school programs
Support Big Brothers, Big Sisters (Be one)
Analyze TV, videos and music lyrics for how teens are taught to see themselves
Be on the lookout for gender based dating violence.
Educate boys as well
But teachers need training to become a safe space for an 'at-risk kid.' She mentioned a film called "Very Young Girls" which captures the stories of underage girls in their own words. (Available on Netflix)
SPECIAL SESSION
A Dialogue between Somaly Mam, Founder of the Somaly Mam Foundation in 1995-6, author of The Road of Lost Innocence: The True Story of a Cambodian Heroine. NY: Spiegel and Grau, 2009, and Chloe Flower, concert pianist.
The session began with an original piano composition entitled "Revolution" (available on iTunes and Amazon.com) written and performed by Chloe Flower, who has been working with the Somaly Mam Foundation since she spent a holiday in Cambodia, some years ago.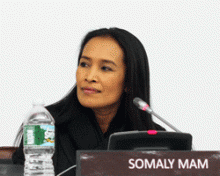 Ms. Mam began by saying that saving girls in trafficked situations is a very different experience from rescue alone. It's one thing to get them out of the brothel, and quite another to know what to do with them from that point on.  A plan is necessary, as they have no education, confidence or skills.  Survivors who were once part of the problem are better equipped than social workers to be part of the long-term solution. She approaches the process by saving one person at a time.
In speaking about her own experiences as a trafficked victim, she told us about never wanting to escape, as the brothel had become her community. She was traumatized, had no voice, no power, and could not speak with anyone. "Silence is suffering," she said.  She urges forgiveness, long -term education, the education of parents and men, and the punishing of pimps, who largely avoid accountability.
What can be done? No one ever asked her why she was in a brothel. Be present to the girls, she says, giving personal care such as hospital visits, assistance with babies, time etc. Stay with them and support them. Girls once out of the brothel are excited and want to do everything. Help them develop long term goals and plans. Be present to them. It's one thing to sponsor a girl financially; it's another to give her time and support in trying to overcome loneliness.
Ms. Flower then spoke of how music education, and education in the arts in general, impacts the prevention of human trafficking. "Music," she said, "changes brain density, and creates awareness and empathy. Learning an instrument creates a more disciplined person." She spoke about the "La Sistema" program in Venezuela, which has helped some 300,000 students through music education. She quoted Mexican president Vicente Fox saying," Education is the only thing that can change a situation in one generation."
In answer to an audience question about how to involve men, and mentor and train male youth, they suggested these organizations:
A Call to Men www.acalltomen.org
Men Can Stop Rape www.mencanstoprape.org
They also urged women attendees to spread the word among the men in their lives.
Anne-Marie Carlson closed the conference with gratitude to the speakers and attendees for coming, and for their ongoing commitment to social justice.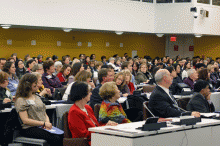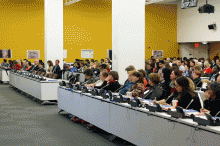 More than 450 educators and students from the US and abroad attended the conference.  These included students and faculty from Mott Haven High School, Bronx, NY;  Rutgers Prep, Somerset NJ; Nassau Community College, NY; and Fulbright Scholars from 25 countries in Asia, Africa, South America, Europe and the Middle East.
Resources for this conference, including links to relevant websites, will be posted on the Teacher Resources Section.
Submitted by Toni Giangrande, editor, with thanks to Peggy Montgomery for corrected copy and the following for their notes: Sr. Rita Arthur, Nancy Brown, Martha Chatterjee, Ann Grosjean,  Rita King, Lochie Musso, Holly Shaw and Eileen Venezia.
Photographs by Donald Carlson
Where after all do universal human rights begin?  In small places, closest to home – so close and so small that they cannot be seen on any map of the world.  Yet they are the world of the individual person:  the neighborhood…the school or college…the factory, farm or office…Such are the places where every man, woman, and child seeks equal justice, equal opportunity, equal dignity without discrimination. Unless these rights have meaning there, they have little meaning anywhere. Without concerted citizen action to uphold them close to home, we shall look in vain for progress in the larger world.
–        Eleanor Roosevelt, 27 March 1958, United Nations