Seventh Annual Atlanta Conference
YOUTH IN DANGER:  A CALL TO ACTION
March 8, 2014  8:30 a.m – 4:00 p.m.
College of Education/Georgia State University
This conference for educators, students and concerned citizens  examined some of the dangers confronting youth, and highlighted solutions and programs to help overcome them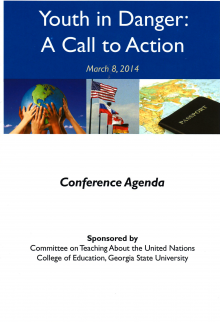 Conference Highlights:
Conference Welcomes were extended by:
Dr. Gwen Benson, Associate Dean and Conference Co-Chair
Dr. Paul A. Alberto, Interim Dean
Anne-Marie Carlson, Chair,  Committee on Teaching About the United Nations
 Anne-Marie Carlson also introduced the opening keynote speaker Hawa Diallo.
 Hawa Diallo is the public information officer in the NGO Relations section of the United Nation's Department of Public Information. Her extensive UN experience began in 1987. From 1992 to 1994, she served in two United Nations Peacekeeping Operations in Cambodia and Somalia. It was during her peacekeeping missions that she recognized firsthand on a global level the importance of reaching out to women and children.  A call to action was very much needed, not just in Cambodia and Somalia, but, worldwide.
Her candid discussion explored many issues including the disturbing link between increasing child labor and the preference being given to boys when making decisions on education of children. She went on to state "Gender-based discrimination in education is, in effect, both a cause and a consequence of deep rooted differences in society. Disparities, whether in terms of poverty, ethnic background, disability, or traditional attitudes about their status and role, all undermine the ability of women and girls to exercise their rights." She noted March 8 is also International Women's Day and that we should all stop and reflect on the importance of Women's history in the past and future, but more importantly in the present moment. As we come to terms with world wide issues of concern, we all must stop and recognize the importance of the input of women across the world in decision making policies for the future.
Following the Opening remarks, a series of workshops were presented to the audience to participate in, including:
Supporting Young Women Through Mentoring – Presenter – Sandy Matthews, Network for  Enhancing    Teacher Quality

When Mommy Goes to Prison: How it Affects Dependent Children – Presenter- Joyce Carmouche, Eastern Kentucky University
Human Rights Education: The Value of Partnerships – Presenter- Dina Bailey, National Center for Civil Rights
Improving Outcomes for Students with Disabilities: A Capabilities Approach – Presenter – Jill Williams and Patty McHatton, Kennesaw State University
School Climate in Alternative School Settings – Presenter – Carrie Kane, Weke Andrews, Mora Pressley, Zachary Johnson, James Schwab, Brandis Ansley, Kris Varjas and David Houchins
Coalition for English Learners – Presenter – Richard Welch
The morning workshops presented an array of topics for students and teachers to select from. This enabled them to explore even further, an area of interest or concern of which they could participate in and allowing them to bring back to their classrooms information and resources to use as a platform for further research.
Greetings were then given by Betsy Rivard and Chris Young from AAUW and CIFAL, followed by the introduction of Al Duncan by Jill Williams from Kennesaw State University.
Al Duncan is an award- winning Youth Advocate, Publisher, and an internationally recognized authority on soft skills. He is the publisher of Duncan Nuggets.com, a resource center packed with free videos, articles, and activities on character education. Duncan is also the founder of Young Scribes, a free marketing and fundraising program that allows schools and youth organizations to raise money by publishing books written by their young people. He began his presentation by requesting audience participants to respond to several general questions such as 1) Who has been teaching the most amount of years? 2) Who has travelled the farthest to attend this conference? 3) Who has been teaching the least amount of years? After the replies were heard, he rewarded all responders with a copy of his book "Get All Fired Up! About Living Your Dreams" He went on to discuss the importance of young people keeping a journal. He made references from "My Success Journal For Young People. He explored the idea that if you want to be successful, you should write down your goals and how you plan to accomplish them. His success journal for young people is full of empowering "Duncan Nuggets". He spoke about understanding the real definition of success — How to develop your strengths and managing weaknesses, building self-confidence and self-discipline. He went on to emphasize the importance of these skills both in and out of the classroom setting.
He closed by applauding all educators for the work they do and encourage more young people to enter the field.
Lunch Time Closing – After School All Stars Dance Team Performance
As we finished our lunch we were entertained by this young group of Dancers from the Coretta Scott King Leadership Academy. What a delight to see these young girls express themselves through Dance!
Afternoon Workshops:
Anti-Prejudice Consortium –Presenter – Richard Welch
Trafficking in America: Up Close and Personal – Presenter – Marje'  Etheridge
U.S. Fund for UNICEF –Presenter – Betsy Root, Global Citizen Fellow
Kids on the Block – Presenter – Lorie Summers – Mental Health America
Bullying: How You Can Make a Difference – Presenter – Sarah Kipperman and Mary Sue Black –Center for School Safety, School Climate and Classroom Management  Ameri-Corp – Work and Service in Urban Schools
Closing Session:
As part of the closing session Dr. Gwen Benson introduced participants for the panel discussion. The topic was "Communities and Schools"
Responding to the call. The Moderator for the panel was Mr. David Barnes, CTAUN Steering Committee member. Panelists included Julie Straw, Founder and Director of the Community Health Ambassador Programs, Macio Thompkins, Founder, Lights! Camera! Actin!, Hawa Diallo, Public Information Officer, United Nations, Alice Johnson, Executive Director, Georgians for Gun Safety.
Mr. Barnes led the panelists into an open ended Q and A with audience participation. His only requirement was to remember to keep the theme of the conference "A Call To Action" in mind when questioning the panelists. Questions were directed to members of the panel by their field of expertise. Great interest was demonstrated by the audience in tools that a teacher or concerned citizen can develop or enhance to reach out to the young people of a community.
Finale:
Introduction of the Finale was given by Dr. Susan Ogletree from GSU's Educational Research Bureau – She introduced "Kids on the Block" a Mental Health of Georgia Puppetry Troup. Kids on the Block puppet troupes have performed successfully all over the world since 1977. For the last ten years, Mental Health America of Georgia has proudly offered this program to schools and communities around the state. Over 45,000 children have seen performances provided by the troupe. This program is an educational one that celebrates mental, physical, and cultural differences. The program is one of few problem solving and coping skills. The multi-cultural, life sized puppets are entertaining and children respond to the power of puppetry.
Closing – Dr. Susan Ogletree
In her closing remarks, Dr. Ogletree reminded us all of the importance of contributing to our youth and to foster in our students the idea of being a service to others, whether locally or globally starting with the K-12 curriculum and moving on to higher education. There is an ever present need to improve the existing curriculum, at the same time, encourage the developments of new enhanced units and lessons.
 On a final note, with respect to the plight of less developed nations it's important that students learn how the United Nations, from its founding, has played a major role in the lives of people throughout the world. The need to grasp and understand the scope of the United Nations is an essential one for all our young people. With continued effort from educators generations to come will have the skills to assist in the development of new and better ways to reduce the ravages of poverty, hunger, malnutrition, disease and war.