CTAUN Conference in Houston:
CULTURAL AWARENESS:  A PATHWAY TO PEACE
Saturday, 11 April 2015     North American University,  Houston  TX  77038
This conference for educators, students, and community members provided them an opportunity to gain knowledge of global partnerships in an increasingly interconnected world.  The keynote speaker, panelists, breakout sessions and an International Student Cultural Fair showcased the commonalities of all cultures.  Topics of interest included ways of engaging students, human trafficking, sustainability of the environment, immigration issues, and connecting classrooms to the larger global viewpoint.
Welcome & Introductions:
Dr. Barbara Baethe, Chair,   Conference Steering Committee, welcomed everyone and stated that  the day ahead would be one of "international conversation," a first for the city of Houston.
Dr. Reg Pecen, President of North American University,  thanked the Committee on Teaching About the United Nations (CTAUN).  He said that global partnerships are no longer a luxury and applauded the diversity of the city of Houston, also indicating that there are students from 48 different countries attending NAU.
Anne-Marie Carlson, Chair, Committee on Teaching About the UN summarized its mission – to help all students learn about the United Nations by engaging educators and supporting them with a variety of programs.  Then she introduced Ms. Emily Garin, UNICEF Policy Specialist in the Division of Data, Research and Policy, who gave the Morning Keynote Address.
Key-Note Speaker           Emily Garin, Division of Data, Research and Policy, UNICEF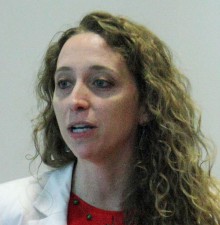 Ms. Garin introduced her topic: UNICEF – what it is and what it does. Founded after World War II to provide food for Europe's starving children, it is a part of the United Nations that works today in remote villages in 167 countries. It won the Nobel Peace Prize in 1965.
UNICEF's main mission is still the health and survival of children. It provides vaccines (we are close to eradicating polio); it assists governments in establishing health care systems; it finds interesting ways to provide nutrition such as "healthy nuts;" it works for early  diagnosis of HIV/AIDS so that mothers do not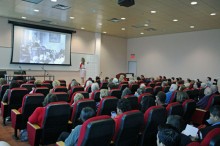 pass the virus on to their unborn children; it helps provide clean, safe drinking water and sanitation facilities; it supports government-run schools; it advocates for the elimination of violence against children and to require birth registration so that as adults children will be eligible for a passport and health services. Ms. Garin concluded by saying that UNICEF champions diversity, enabling children to learn about different cultures and backgrounds.
Morning Panel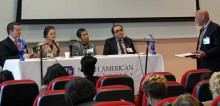 Moderator Dr. David Breslauer, University of Phoenix,  began with a thank you, and then introduced the panelists:   Patsy Brown   —  Japan-America Society; Farah Killidar  — World Affairs Council of Houston;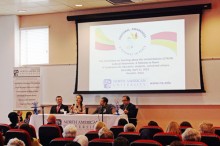 Dr. Ozgur Ozer — Harmony Public Schools; and Jean Wong Wilson — Asian Chamber of Commerce.   The question, "What knowledge or support will facilitate immigration?" was answered by each panelist.  Ideas they presented included: support from the native country's community here; communication about cultural differences; orientation by schools and universities so that students are more aware of policies, values and the philosophy of education.  Panelists added that art and music can add another dimension to communication.  They concluded that building bridges is key.
Eight Breakout Sessions were scheduled before the Fiesta International Lunch in the Dining Hall of the Student Center and seven Breakout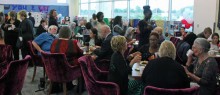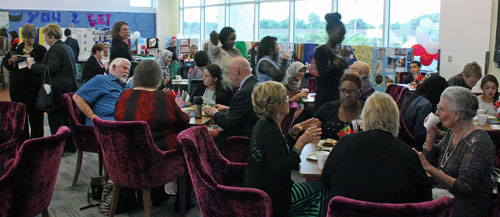 Sessions followed in the afternoon.  The Sessions before lunch were:  Global Classroom, Traffic911; Understanding Poverty: A First Step Toward Peace & a Leap for Mankind;  A Corporate Perspective on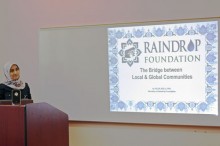 Working with Various Cultures; Acts of Wisdom: Our Story; Raindrop Foundation: The Bridge between Local and Global Communities; Educating to eliminate ignorance, prejudice, and bigotry to create tolerance and peace between cultures;  Excellence and Equity in Education.    The afternoon Breakout Sessions were:  Traffic911;  Understanding Poverty:  A First Step Toward Peace & a Leap for Mankind;  Universal Education;  Model UN;  Fostering Global Awareness and Connectivity in the Classroom;  Cultural Differences;  Environmental Sustainability.    All these sessions helped to increase understanding of the different aspects of the theme of Cultural Awareness.
They agreed that information about food and its preparation and cultural anomalies, like Susan B. Anthony dollars, were important topics.
Afternoon Panel  "Coming to America"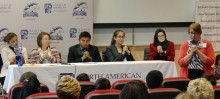 "Coming to America" was the topic of the Afternoon Panel discussion; it was moderated by Paula Roe Spring Branch ISD Educator.  Panelists included North America University International Students from different countries, including Cintya Calderon from Peru; Elvis Hooker from Panama; Mahri Kadyrova from Turkmenistan; Aliya Kassimova from Kazakhstan; Berina Selicrina from Bosnia; and  John Morah from Nigeria.  They spoke about their experiences in this country, citing the need for emotional support and ways to improve their English conversation.
2:15-3:00 p.m.    "My Cultural Journey:  Personal Experiences"
3:00 – 3:15 p.m.       Closing Remarks
For any questions about this conference you may contact Dr. Barbara Baethe, Chairman, CTAUN-HOUSTON  
Dr.baethe@earthlink.net
PO Box 717,  Richmond  TX  77406