The 19th CTAUN Conference at United Nations Headquarters
6 April 2018
"STEPPING UP TO PROTECT THE WORLD'S CHILDREN"
CTAUN WELCOME
Anne-Marie Carlson, CTAUN Chair, welcomed 560 attendees to this conference, focusing on some of the many issues being faced now and following up on our 2017  conference on refugees. The key current issues being focused on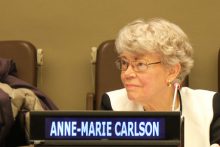 were the following – children facing conflict, violence against children, modern day slavery and gun violence and safety.
In addition to educators at all levels from the tri-state area and beyond, in recent years we have welcomed students from high schools and universities in the US, as well as Fulbright Scholars from Asia, Africa, Europe, Latin America and the Middle East. This year, other schools included are Harvard's Kennedy School of Government, Lehigh University, and the University of Bridgeport.
In addition, Ms. Carlson introduced a new partnership, created through the initiative of Dr. Lorna Edmundson, President Emerita of Wilson College in Pennsylvania, to promote greater understanding of the UN and the issues being faced for institutes of higher education. Partner schools include York College of Pennsylvania, Manhattanville College in Purchase, NY, Norwich College in Vermont, and the College of St. Joseph in Connecticut.
After presenting CTAUN'S two Vice-Chairs, Grace Murphy and Elisabeth Shuman, she introduced our keynote speaker UN Under-Secretary-General for Global Communications, former journalist and current Director of the UN Dept. of Public Information (DPI) – Alison Smale.
UN WELCOME
Ms. Smale, who comes from a family of educators, began with an enthusiastic appreciation of teachers as the key to sustainable citizenry, and gratitude to CTAUN for its support of the values inherent in the UN's Sustainable Development Goals (SDGs) – justice, peace, inclusivity, diversity and the environment. Teachers must reflect these values, because what we learn in school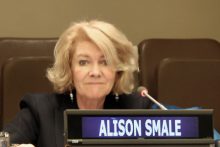 shapes who we become. She spoke of the SDGs as essential to every curriculum, and mentioned UNESCO's World's Largest Lesson: a Resource for Teachers, illustrating the impact that any individual can make by changing his personal behavior such as sustainable food choices, avoiding the use of plastic etc.
She spoke about the vulnerability of children. "According to UNICEF," she told us, "every 5 minutes, a child dies of violence." Some 28 million deaths have been documented. The UN views youth as agents of change, and insists that their voices need to be heard. She also mentioned the Junior Ambassadors program, under the auspices of the NYC Mayor's Office of International Affairs, working to integrate UN concepts into the curriculum.
VIDEO #1: PICTURES NO CHILD SHOULD DRAW. Scenes of war animated by children (UNICEF). All videos used in the conference were introduced by Grace Murphy and are available on the internet. Though approximately 2 minutes or less, each in its brevity is extremely powerful, making it an excellent teaching tool. See Teacher Resources on our website for further information and additional videos.
MORNING PANEL – GLOBAL CHALLENGES and UN RESPONSES
Virginia Gamba, UN Under-Secretary-General for Children and Armed Conflict
Ms. Gamba opened by speaking of protracted crises existing in Yemen, Syria, South Sudan, the Congo (DRC) and Nigeria, and told us that the majority of the populations as well as the main victims in countries of conflict are under the age of 18. Hundreds of thousands of them flee unaccompanied, forced to build their lives in strange countries whose language they may not speak.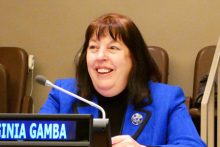 They live in camps in fear of abduction, trafficking, injury or death, sometimes due to curable diseases but lack of minimal health care. Diseases that disappeared long ago, like polio, have resurfaced. In interviewing child refugees, she found that what they miss most is school, which they perceive as an oasis of peace. In Sudan, where there may be a single unfurnished room with no supplies, children sit on the floor, learning.
The UN names parties who attack the safe havens of schools and hospitals. 130,000 child soldiers have been released and rehabilitated in the Democratic Republic of the Congo, Cotes D'Ivoire, and Afghanistan. Yet the tactics of war continue to change –Boko Haram using girls as suicide bombers, for example. What is needed: Psycho-social reintegration services, giving communities the expertise to create and implement action plans that make a difference in children's lives, strengthened and expanded partnerships, and a stronger pool of knowledge – so that 'lessons learned' are sent to academia.
She encouraged us to teach our own children to see school as hope, and to teach about how children are affected by war. Unaware initially that such violence was happening, students at the Swedish Global Child Forum in 2017 made 14 recommendations for improvement, insisting that since 50 % of the world's population is under 24, children have the right to know. She closed by saying, "It's not their war. They count on us for the support they so desperately need."
Martha Santos Pais – UN Special Representative of the Secretary-General on Violence Against Children
Echoing Alison Smale, Ms. Pais repeated that every 5 minutes a child somewhere in the world endures an act of violence (some 1 billion a year or half the world's children). This includes violence on the playground. Despite the Convention on the Rights of the Child (CRC), in which 196 countries are currently committed to insuring that child protection is seen as a human right, violence is often condoned as a private matter within a home or institution. When acts are reported, authorities fail to take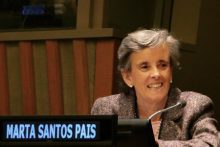 them seriously. Laws are unclear, and statistical data non-existent. A UN report on best practices and how to hold countries accountable led to her mandate.
What is needed: country specific legislation on what is acceptable, and what is non-negotiable. "When we're clear, we get results," she said, "though progress is slow and uneven." Though data collection remains a challenge, some countries in Africa and Asia, including China, are now adopting change. Yet globally, children in large numbers define their world as pain and insecurity, and the younger the child, the greater the risk. Neuroscience also indicates that violence has an effect on brain development, and significantly, children will replicate their own treatment, when they become adults. (Ed. note- Saddam Hussein, for example, was an abused child.) To break the cycle requires support of families and schools.
She spoke about a study done two years ago (2016) on cyber-bullying. In following up, it was found that children believe that adults don't care. Choosing not to acknowledge the reality of cyber-bullying, many consider it a part of life that will ultimately make children stronger. The difficulty in resolution is that, with easy access to the Internet and mobile phones, cyber-bullying is pervasive and anonymous, therefore difficult to pin down. As a result, child victims feel lonely and abandoned.
Often children are seen as terrorists themselves, rather than as victims. In a Q&A, she noted an example of police receiving reports that children were engaged in witchcraft, not just in Africa, but in the UK as well. She added that sometimes Scripture is used as an excuse for violence. Moderate religious leaders insist that no religion preaches violence. Cooperation with them is essential to break through the cultural barriers.
In addition to the millions who suffer violence, 176,000 witness it. It also creates a burden on society to the tune of 7 billion in US dollars. "We are missing the point if we use these funds only as a stopgap for emergencies, and don't go beyond that to invest in education", she said.
2030 is the target year for the elimination of violence against all children. "With tolerance, we can change the world. It begins with INDIVIDUALS, not Governments. We must remind governments of their commitments, and we must listen to children's voices. Zero is the best number for humankind."
Marie-Paule Roudil – Director, UNESCO Liaison Office in NY
Working in an institution, Ms. Roudil stated, one can lose daily contact with the real world. It is not easy to find collective solutions for individual problems. Education can provide a message of hope. So respect for the teaching profession is critical. "If the SDGs' 2030 agenda provides us with a common road map, its starting place must be the benches of schools." According to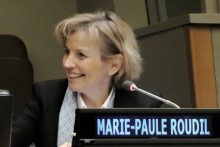 the Global Monitoring Report, in 2015 263 million children were out of school, (50 %) of refugees and others due in part to attacks on educational institutions. Today 60 million are missing their primary education, and 75 million are at risk of being left behind. In addition 670 million who are in school are not reaching minimal goals in reading and math. Estimates are that 171 million young women could be out of poverty if they had a secondary education.
Children need to feel safe in their schools. In 2017, UNESCO published a Teachers Guide to the Prevention of Violent Extremism. "Just because you're teaching math," she said, "doesn't mean you shouldn't be applying it to human rights." www.unesco.org
VIDEO #2: A VACCINE FOR VIOLENCE (UNICEF-UK) An abused child wanders into a pharmacy searching for a vaccine to combat violence. Is there such an item?
EXCELLENCE IN EDUCATION AWARDS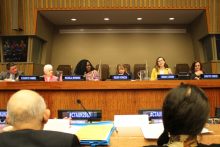 Coordinated by Eileen Venezia. See the list of our 2018 recipients, all of whom spoke, and their projects in the Awards Section of our website
THE CULTURE OF PEACE AND THE CONVENTION ON THE RIGHTS OF THE CHILD — A Dialogue between Ambassador Anwarul Chowdhury and Mikiko Otani –International Human Rights lawyer & member, UN Committee on the Rights of the Child
Ambassador Chowdhury defined the Culture of Peace as going beyond peace itself. It involves a focus on transformational change. He envisages peace and non-violence as a personal and individual part of our daily existence. If we are not peaceful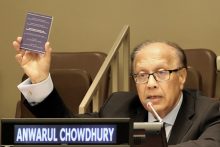 ourselves, we won't have the credibility to speak of it to others. How do we achieve that?
Ms. Otani urged that we teach children about human rights, not as a subject, but rather in experiences and activities, in speaking without hurting others, with teachers as role models in their interactions and behaviors. Without peace, achieving one's goals is not possible, so children need to see and understand the value of peace in their lives.
Amb. Chowdhury: The values of focusing on children are threefold: They are
Inter-generational – adults and children working together
Sustainable – if we start when children are young, they will grow into peaceful people
Inspirational – working for the greater good of all
Mikiko Otani: A question that often comes up: Will teaching children their rights make them selfish? No – self-esteem will enable them to promote it in other children.
Amb. Chowdhury concluded with: How do we connect early childhood development and the culture of Peace? (He displayed a copy of the Culture of Peace document –a set of attitudes and behaviors for an inclusive and peaceful society, adopted by consensus of all 193 countries in the General Assembly in Sept.1999.) Boards of Education are often unwilling to take action for change, so it becomes the role of teachers to talk consciously about respect, including gender respect, early on. So, teachers, don't wait for the Board of Ed. before acting. Show videos, discuss it at teachers' meetings, involve parents and the community – the message must be consistent. His 8 Pathways to Peace is available on line, along with links to organizations engaging in these pathways, opportunities for volunteering etc.. www.pathwaystopeace.org The following is an overview:
IMAGINE A WORLD
Where governments respect the human rights of all their citizens and settle disputes by the rule of law for the common good.
Where all people have food, shelter and access to medical care, and children are born into and raised by healthy families and communities.
Where literacy and education for all are accomplished facts.
Where economic practices create well-being for all stakeholders, including communities and the environment.
Where beauty, the arts, and media inspire the best in people.
Where the benefits of science and technology enhance all circles of life.
Where tolerance and appreciation of diverse religious beliefs is the rule, spiritual practice is encouraged, and reverence for life fostered.
Where the earth in all her natural beauty is treasured and its resources utilized sustainably, for this and future generations.
This is a world at PEACE… May Peace Prevail on Earth. You Are a Pathway to Peace.
PRESENTATION OF POSTERS — Coordinated by Dr. Thomas Ward of the University of Bridgeport. Of the posters submitted by college and university students in our annual contest promoting the theme of this year's conference, 19 winners were selected. See this list of winners and their posters on the awards page of our website.
VOICES OF YOUTH: NYC JUNIOR AMBASSADORS – Part I — Penny Abeywardena –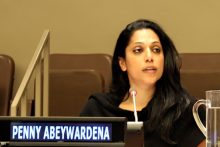 New York City's Commissioner for International Affairs, appointed by Mayor Bill De Blasio.
Ms. Abeywardena began by saying that this is a day for celebrating our educators, and their efforts to empower children to take action against injustice and violence in their lives. She spoke of the Mayor's initiatives – universal pre-K and paid family leave, and an initiative called the NYC Junior Ambassadors Program, which focuses on empowering 7th graders in all five boroughs to become engaged with the United Nations. "It's more critical now than ever before," she said, "especially since the city hosts the world's international community." She views the UN as a blessing to the city, both spiritually and financially (a recent study found that NY City receives $3.69 billion annually in economic output from hosting UN Headquarters in NY). Her goal is to ensure that all New Yorkers know and understand the work of the UN.
MID-DAY BREAK — LUNCH & INFO FAIR
CTAUN'S Info Fair, coordinated by Dr. Ruth Nielsen, hosted the following organizations offering materials for educators related to the conference theme:  Arigatou International,    Child Fund Alliance,   Children's Aid,   Energizing Youth,   Global Education Coalition,   Rockefeller Archive Center,   Roosevelt Presidential Library,   SOS Children's Villages,   UNAUSA,   UNICEF,  UN Department of Public Information,  U.N. Office of the High Commission for Human Rights,   UN Relief and Works Agency,   UN World Food Programme
VIDEO #3: ANY KID ANY SCHOOL (ECPAT USA) – Children in the US who become unwitting victims in the sex trade online
VOICES OF YOUTH: NYC JUNIOR AMBASSADORS – Part II — Aissata Camara – Program Director for the NYC Jr. Ambassadors Program. Schools are selected based on the strength of their curriculum. Benefits include:
A curated tour of UN Headquarters matched to the class's curricular interests
A classroom visit from a UN diplomat providing an overview of his or her role
A private year-end celebration of the entire group of Jr. Ambassadors, at a venue significant to the history of the UN in NYC.
A certificate acknowledging participation in the program
Seventh grade educators in all subject areas may apply on behalf of one of their classes or after school programs, as long as they create lesson plans around UN issues related to their subject area – eg. Science – climate change. Ms. Camara may be contacted at 212-319-9300 or by email on their website www.nyc,gov/nycja . There are also two short explanatory videos on their home page.
Students find the program inspirational. One attendee remarked, "One side of the world is dancing; the other side is running." Our job is to ensure that all of them are dancing. When one child speaks up, others will too.
VIDEO #4: BEST FRIENDS IN THE WORST OF CIRCUMSTANCES – (UNICEF) — Rohinga girls from Myanmar at a refugee camp in Bangladesh
AFTERNOON PANEL – PROTECTING AND ENCOURAGING OUR YOUTH
Craig Mokhiber – Director, New York Office of the UN High Commissioner for Human Rights (UNHCHR) – Moderator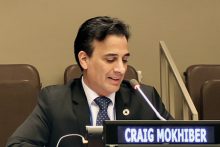 "The UN is not a building; it's an idea." Mr. Mokhiber reminded us that 2018 is the 70th anniversary of the Declaration of Human Rights. "There is no such thing as junior rights, yet children and youth are disproportionately victimized. Youth are as diverse as any other group in society; therefore, as a group they are not a threat, nor are they all good guys." It is increasingly important to mobilize them on behalf of human rights, and not militarism. One approach is inter-generational – solidarity with older people, with no ageism around issues; empowering youth to protect us.
Siddharth Ashok Kara – Harvard Professor; author of Sex Trafficking: Inside the Business of Modern Slavery; Producer of Trafficked (2017)
Professor Kara stated that 168 million children are in the labor force and not in school, subject to injury and emotional and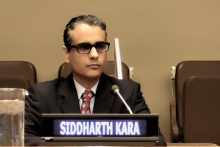 sexual harm. How are we a party to that? The minerals that go into lithium batteries for our smart phone are mined in the Democratic Republic of the Congo (DRC). Children labor in the mines, and in industries as diverse as clothing, seafood, rice and sporting goods. It all begins in grinding poverty; they work to help their families survive.
Sexual exploitation is "for profit." The average age at the beginning is 13. If it starts at 13, does it suddenly become "consensual" at 18? In the intervening 5 years, 5000 or more rapes have occurred. There is an utter destruction of innocence, and no one lifts a finger. 8-10 % are US citizens recruited from the foster care system, particularly in the period when they are losing the protection of the system and transitioning from good homes out into the world. The antidote is to build up the self-esteem of these children before they are 'taken in.' Teams of law enforcement should be dedicated specifically to trafficking, and transitional planning and safety nets for the 6 months out of foster care should be put in place. Modern slavery is more profitable today than at any time in our history..
Sara Boyd – Political Science Student and Activist; organized a 'March for our Lives' against gun violence at Lehigh University
She spoke about the absence of young people at the polls. In 2016, only 24% voted. As a group they see no benefit in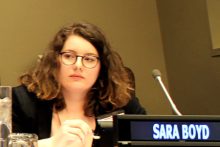 participating in political institutions, since their issues are not taken seriously, their age implying immaturity.
Yet they remain activists. What makes them different from protesters in the past? With the accessibility of the Internet and smart phones, they can fact check in seconds, so apathy has changed to motivation, and social media allows their voices to be heard. www.studentpoliticalaction.org.
VIDEO # 5 – THE OTHER SIDE – (Sandy Hook Promise) — A young boy sitting in his bedroom holding a gun, contemplates using it.
Mark Barden – Managing Director, Sandy Hook Promise (Gun Violence & Student Safety)
Sandy Hook Promise (SHP) is a non-partisan, national non-profit, formed and led by several family members whose loved ones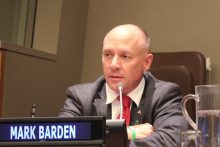 were killed at Sandy Hook Elementary School in Newtown, CT on December14, 2012. Their sole purpose is to prevent gun violence BEFORE it happens, so that no other parents experience the senseless, horrific loss of their child.
As Mr. Barden told his moving story, he showed us a photo of his third and youngest child, Daniel, one of the first graders lost that day. "Look at the faces; it's not about the numbers," he said.
He went on to talk about the warning signs of potential danger. SHP offers four "Know the Signs" programs at no cost for parents and teachers to enable them to intervene before anything happens. These have helped avert multiple school shootings, suicides and gun threats, reduced bullying and victimization, and helped hundreds of youth to receive mental health and wellness assistance. To bring the programs to your school or community e-mail them at programs@sandyhookpromise.org.. The programs include:
SAY SOMETHING. 80% of school shooters typically talk about it before they act, as do 70% of people contemplating suicide.
START WITH HELLO teaches youth how to minimize social isolation, marginalization and rejection
SAFETY ASSESSMENT AND INTERVENTION – Not only addresses the threat itself, but helps identify and treat the underlying issue that led to the threat
SOS SIGNS OF SUICIDE (and depression)
What are the signs?
A strong fascination or obsession with firearms
Exhibiting excessive over-reaction to or aggressive behavior for a seemingly minor reason
Victims of long-term bullying with real or perceived feelings of being persecuted
Low commitment or aspirations toward school or a sudden change in academic performance
Extreme feelings of isolation or social withdrawal
Unsupervised, illegal and/or easy access to firearms, or bragging about access
Making overt threats of violence (spoken, written, pictures, videos, gestures etc.)
Dramatic changes in physical appearance
Blaming others for one's own failure
Major changes in eating or sleeping habits
Expressing hopelessness about the future
Antisocial behavior – negative role models, dishonesty, destruction of property, intolerance of differences, substance abuse
Mr. Barden's presentation was the emotional highlight of the conference. The audience gave him a standing ovation.
VIDEO #6: CATCHING ONLINE PREDATORS IN MALAYSIA. (UNICEF) A 'sting' operation caught 70 predators, but none were prosecuted, because no law existed against it at the time.
SPOTLIGHT — Meg Gardinier – Secretary General, ChildFund Alliance, and a founding member of the campaign for US ratification of the Convention on the Rights of the Child (CRC)
2019 will be the 30th anniversary of the Convention on the Rights of the Child. The ChildFund Alliance, a network of 11 child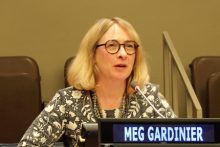 development organizations working in 63 countries, has helped some 14 million children and families to overcome poverty.
Their first priority is to advance SDG# 16, targeting 16.2 to end all forms of violence against and torture of children. They worked with partners like SOS Villages, UNICEF etc. to come up with a document spelling out child-friendly accountability in three languages – English, French & Spanish. The program calls for assessment, analysis and action to galvanize the community. Other Alliance initiatives include working to end child marriage in India, by teaching young girls resilience, support of one another and independence through soccer, providing services to refugees, migrants and asylum seekers in northern Greece, disaster relief in emergencies, and an End Violence Summit in Stockholm in Feb. 2018.
Teachers may access materials and methodology on their website www.childfundalliance.org
GLOBAL CITIZEN AWARD — Narin Stassis – Coordinator of the CTAUN subcommittee on Global Citizen, announced the award
The CTAUN Global Citizen Award was established in 2017 in memory of CTAUN's founder, Barbara M. Walker. It recognizes an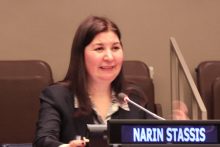 individual or group committed to active leadership in resolving global challenges.
CTAUN is pleased to announce that the 2018 recipient is the Right Honorable Gordon Brown, United Nations Special Envoy for Global Education, and Prime Minister of the United Kingdom from 2007 to 2010. He is a passionate advocate for global action to ensure education for all, and works closely with key partners to galvanize support for the UN's Global Initiative on Education, Education First, which aims to achieve quality, relevant and inclusive education for every child.
Mr. Brown responded by video, thanking CTAUN, confirming his commitment to the values of the United Nations, and proposing a Declaration of Interdependence.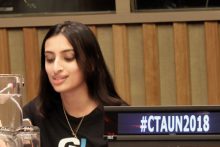 CLOSING —
Aastha Jain – a member of Girl Be Heard, which uses theatre to empower young women to become courageous, confident, and socially conscious leaders, and to explore their own challenging circumstances provided the closing.
Ms. Jain ended the conference by reading a moving poem entitled "We Pray for Children" by Ina Hughes.
Ed. Note : Many thanks to our contributors to the content of this report – Nancy Brown, Peter Brosnan, Doha Sabbagh, Percy Mdunge, and Guljana Torikai; and to Peggy Montgomery, my second pair of eyes. T.G.
CONFERENCE STATEMENT
"Promises made to children are sacred." – Nelson Mandela
Today, children worldwide are increasingly in jeopardy. They are facing war, trafficking, and the dangers of crossing borders unaccompanied. Many lose their identity due to lack of documentation at birth. Others risk death from untreated water, famine, disease, and lack of reproductive health care.
But problems don't exist in the developing world alone. Those affected may be present in our own school communities. Malnutrition, child marriage, bullying, homelessness, and insufficient education, are prevalent in the US as well. According to UNICEF, by 2030, though these numbers are decreasing, more than 60 million children of primary school age globally, will still not be in school, 27% of whom will never set foot in a classroom. Nicholas Kristof in the NY Times (5/26/17) wrote that between 2000 and 2010, more than 167, 000 American children under 17, some as young as 11, married. Who is advocating for them?
How are the United Nations, its NGO partners and others addressing these challenges? What can we do to give children a sense of safety in the classroom? How do conflict and stress affect a child's brain development, and what is the psychological impact of media and technology on children?
We invite educators, school administrators, social workers, psychologists, youth groups and concerned citizens to join us in considering these issues and becoming part of the solution. Children are our future.  May none be left out because we failed to act.
CONFERENCE PROGRAM
UN WELCOME – UN

Under-Secretary General Alison Smale

, Department of Public Information (UNDPI)
GLOBAL CHALLENGES AND UN RESPONSES

Moderator:

  UN Under-Secretary-General Virginia Gamba (Children and Armed Conflict)
UN Assistant Secretary-General Marta Santos Pais (Violence Against Children)
Marie-Paule Roudil, Director, UNESCO Liaison Office in New York

AWARD PRESENTATIONS

 Excellence in Educations Awards

THE CULTURE OF PEACE AND THE CONVENTION ON THE RIGHTS OF THE CHILD

Ambassador Anwarul Chowdhury
Mikiko Otani, member of the UN Committee on the Rights of the Child (UN-CRC) and international human rights lawyer

CTAUN's Recognition of Posters by College/University Students
SPECIAL GUEST:

Penny Abeywardena New York City's Commissioner for International Affairs.
MIDDAY BREAK AND INFO FAIR

Exhibitors include:  Arigatou International, Child Fund Alliance, Children's Aid,  Energizing Youth,  Global Education Coalition, Mentor New York, Rockefeller Archive Center, Roosevelt Presidential Library, SOS Children's Villages, UNA/USA, UNICEF/USA, UN Department of Public Information, UN Office of the High Commissioner for Human Rights, U.N. Relief and Works Agency, U.N. World Food Program, YMCA Global Teens.

VOICES OF YOUTH —NYC Junior Ambassadors – an initiative of the NYC Office of International Affairs

Aissata Camara, Program Director, with Askadeline Milanes, Youth

PROTECTING AND ENCOURAGING OUR YOUTH:

Moderator – Craig Mokhiber, Director, NY Office, UN High Commission for Human Rights (OHCHR),
  Siddharth Kara – Harvard professor and expert on contemporary slavery; Author of  Trafficking: Inside the Business of Modern Slavery; producer of Trafficked (2017)
Sara Boyd, Student, Lehigh University, and Activist
Mark Barden, Managing Director, Sandy Hook Promise (Gun Violence and Student Safety)

SPOTLIGHT:  Meg Gardinier, Secretary General, Child Fund Alliance
CTAUN Global Citizen Award, Right Honourable Gordon Brown, UN Special Envoy for Global Education, former Prime Minister of the United Kingdom