CTAUN Conference at University of North Georgia
Dahlonega, 82 College Circle
Saturday, February 24, 2018 – University of North Georgia (UNG), Dahlonega, Georgia
EMPOWERING EDUCATORS: TAKING ACTION LOCALLY AND GLOBALLY
 Held in cooperation with Georgia State University, College of Education & Human Development
The conference was sponsored by the University of North Georgia, Georgia State University's College of Education and Human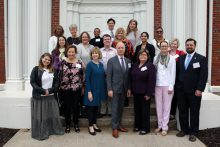 Development, and CTAUN. It was organized by Dr. James Badger and the UNG's CTAUN conference committee: Dr. Laura Bradshaw, Dr. Adam Jordan, Dr. April Nelms and Dr. Linda Reece.
This conference for educators, students, and community members focused on the role and impact of classroom teachers on students and the integration of global awareness into the curriculum. More than 120 attended the all-day conference.
Conference Welcomes and opening remarks were given in Hoag Auditorium by:
Dr. James Badger, Conference Chair, Dr. Tom Ormand, UNG Provost
and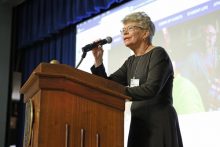 Anne-Marie Carlson, CTAUN Chair, who provided information on CTAUN before introducing the opening keynote speaker.
Maher Nasser, Director of the Outreach Division, Department of Public Information, United Nations, gave the Keynote address.
Mr. Nasser has over 30 years of work experience in the United Nations System during which he has worked in various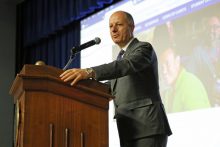 capacities in Gaza, Jerusalem, Amman, Cairo, Vienna, and New York.
Mr. Nasser's presentation included specific data on how the world is changing. Some examples are: Africa will have the biggest increase in population, the need to manage food resources, the pros and cons of social media. Participants learned about the work of the United Nations.
Mr. Nasser shared the seven challenges that the UN Secretary-General is most concerned about:
Nuclear threats (N. Korea)
Global terrorism
Ongoing conflicts
Climate change
Rising inequalities (wealth, gender)
Dark side of innovations (Cyber security without guidelines)
People on the move (people displaced)
Another focus was the UN's 17 Sustainable Development Goals to transform our world by 2030: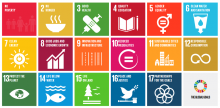 No poverty, zero hunger, good health and well-being, quality education, gender equality, clean water and sanitation, affordable and clean energy, decent work and economic growth, industry, innovation and infrastructure, reduced inequalities, sustainable cities and communities, responsible consumption and production, climate action, life below water, life on land, peace, justice and strong institutions, and partnerships for the goals.
Following the opening keynote address, attendees had six 30-minute presentations to choose from in the three concurrent sessions held in Young Hall
Concurrent Session A
-Tyler Crafton Karnes, offsite education coordinator at the museum of History and Holocaust Education at Kennesaw State University, presented "Yesterday, Today and Tomorrow: Eleanor Roosevelt and the Universal Declaration of Human Rights."
-Ruhi Rahman, Manager of Community Partnership, represents the global humanitarian organization CARE. Ruhi presented " The Care Package; Then and Now". She talked about how we can help women and girls. The attendees worked in groups on an activity for middle schools to think of ways that CARE could help two girls living in Jordan.
Concurrent Session B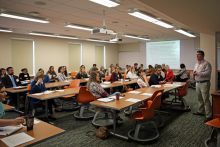 – Thais Council, Southern Regional Education Board Doctoral Fellow and Brilliant Nyambi, youth peer educator coordinator, Africa Unite, presented "Bridging Knowledge Gaps: A Transatlantic Book Club between Black Americans and African-Americans". Thais and Brilliant (0n video from S. Africa) discussed the gap between what students learn in school and from their culture.
– Jasmine Mathis and Erica Bass-Flimmons presented "Global (lives): Partnerships with a Global Impact. This presentation dealt with the benefits of forming partnerships that cross cultural, geographical, and political boundaries.
Concurrent Session C
– Roger Hill and Abigail Christmas-Hill presented "Trafficking and Out of Danger". Here the focus was on how to identify the signs of trafficking victims and how to respond if a victim is identified. An overview of the Out of Darkness program was given.
LaDarrien Gillette, a Community Engagement Fellow for UNICEF USA presented "UNICEF and Global Citizenship". The focus was on the seven main priorities of UNICEF.
Meet and Greet Lunch – Dining Hall Banquet Room – Here entertainment was provided by Pick and Bow and its students who studied at the Georgia Pick and Bow Traditional Music School. The group preserves Appalachian music.
Afternoon Panel Presentation: How We Enact Change – Young Hall
– Carrie McGarity Woodcock, head of the World Language and Global initiatives, Hall Country Schools, presented "Changing a Community Through Language and Culture". A strengths-base model was shared to create a series of language and cultural experiences that promote the development of international-minded students and families.
– Elena Hernandez-Vo, Assistant Principal for the International Transition Center that serves many SLIFE students presented "Empowering Educators to Support SLIFE".  SLIFE refers to a subset of the English language learner population who have limited or interrupted formal education.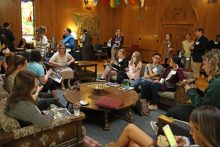 – Claudia Rule, coordinator, School Within-School Program, International Community School , Decatur, Georgia presented  "How the International Community School Empowers the Learning and Lives of All Students Through Teaching, Community and Leadership". Nicole Olauson, a teacher, and Htwe Htwe, a teacher assistant, and a native of Burma, shared their experiences at the school.
Five presentations followed during the afternoon's two concurrent sessions.
Concurrent Session D
– Michaela Claus-Nix, the World Language Content Specialist in Forsyth Country Schools, GA, presented "How Dual Language Immersion Transforms K-12 Education in Georgia.
– Francesina R. Jackson, Director of Spelman College's Student Success Program, presented "Seven Strategies to Support Student Retention".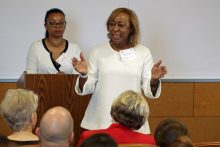 – Gwendolyn Benson, Associate Dean, College of Education and Human Development, Georgia State University, Cassie Leymarie, Gladys Yarborough and Eliseo Jimenez, presented "The (De)construction of Public Schools/Reconfiguring  Public Schools." Here the importance of creating global citizens was emphasized.
Concurrent Session E
– Sally N. Levine, Executive Director of the Georgia Commission on the Holocaust, presented, "Teaching About the Holocaust: Building Statewide Communities of Practice".
-Thomas Smith, adjunct professor at UNG, presented "Educational Reform and International Educational Partnerships and Opportunities in Tanzania, East Africa".
Closing Speakers
-Kevin Glass, Headmaster of the Atlanta International School, presented "Learning for Action and Impact".  Ways to bring local and global challenges into the classroom were explored.
For additional information about this Conference check the University of North Georgia website or contact:James Badger    James.Badger@ung.edu,  Adam Jordan    Adam.Jordan@ung.edu,   April Nelms   April.Nelms@ung.edu  or Linda Reece    Linda.Reece@ung.edu