2006 CTAUN Conference
Friday, February 3, 2006
The Global Challenge of Water
Summary of Conference Proceedings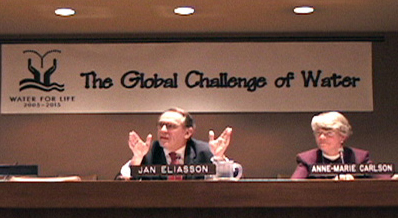 Welcome—Anne-Marie Carlson
Conference Chair
Mrs. Carlson, Conference Chair and Chair of the Committee on Teaching About the United Nations (CTAUN), welcomed the participants. She announced that the conference focus would be on the many water-related issues and challenges affecting us all—from those living in the more developed areas of the world to those living in water scarce areas.
She announced that in the course of the Conference we would be looking at:
some of the efforts of the U.N. and its agencies to ensure clean water for all,
materials shared by a number of water-related organizations,
some new and exciting innovations, and
efforts by students to assist those in need.
Mrs. Carlson reported that 396 people coming from 28 countries had registered for the conference. From the United States, 21 states plus the District of Columbia and Puerto Rico were represented. Among those present were 30 Fulbright teachers and scholars in attendance through cooperation with the Institute of International Education.
Opening Address
His Excellency, Mr. Jan Eliasson
President of the 60th session of the United Nations General Assembly
Mr. Eliasson opened his remarks by urging all in attendance to join in addressing the concern of the members of the U.N. General Assembly for the Millennium Development Goals. The full range of these goals is affected by water concerns. He commented that there is hardly any group he would rather spend time with than teachers in discussing such issues. Theirs is the responsibility to pass on the baton to the next generation.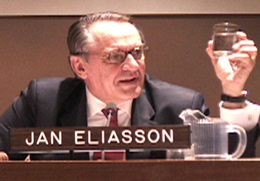 He then raised his speaker's glass of water beside him on the podium and pointed out that this glass of water would be a luxury to 1.2 billion people in the world. Furthermore, he commented, it is usually the women and children who walk miles out and back for whatever water is available, at great social cost. In addition, 2.6 billion people lack access to adequate sanitation. In so many parts of the world there are no sanitation facilities at schools. If women and girls did not have to gather water, they could be in school. And if girls had private toilet facilities they would be more likely to remain in schools as they reach adolescence. "Ultimately, what do all the different 'landscape of goals' of the United Nations—security, development, human rights, free press—mean if you can't read? In the clean water zones you can go so much further!"
Mr. Eliasson called for governments and the private sector to mobilize to relieve water-related conditions alongside the campaign against AIDS. Presently every three seconds a child dies of illness related to poor water and poor sanitation. Mr. Eliasson said that he personally "has seen the rise of a slow, constant, quiet death that we are getting used to." Poor people almost always rank clean water as their top priority. And this could be so easily fixed. It should be done with a "crash program."
The international remedy is to hold governments and the United Nations to account: to give water-related concerns the priority they deserve. As president of the General Assembly, Mr. Eliasson emphasized that the members have never been more convinced of the necessity of global solutions to global problems. Nations cannot afford to be isolated: "Never has it been clearer that we need good multi-nationalism" to address the world problems of disease, migration, AIDS, terrorism, weapons of mass destruction.
Mr. Eliasson urged the conference teachers to "find your issues within this issue: the child who doesn't get water in Africa affects us all, our security and the world's. . . .The role of teachers is to raise that glass of water. We need to pass these ideas on to the next generation." He closed by saying "If I were not a diplomat, I think I would have been a teacher."
Morning Panel
The Water for Life Decade: U.N. Perspectives
Marcia Brewster
Senior Economics Affairs Officer, U.N. Department of Economic and Social Affairs (DESA), Moderator/Speaker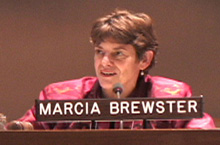 Marcia Brewster opened her remarks by stating that teachers and students are the ones who can translate the U.N. messages into action. We are now going into the second year of the water for life decade, and she called on all U.N. agencies to make the coordinated effort needed to avert a severe water crisis. Water shortages are the equivalent of a "silent tsunami." The monthly death toll due to water-related diseases is equal to those killed by the tsunami.
The World Health Organization definition of attainable water is approximately five gallons a day within a distance of one kilometer. A sanitary means of human waste disposal could be as simple as composting. Gender, water, and human rights are all related. Attacks by both men and animals are made against women while they are out looking for water. Women are also liable to attack when going out to relieve themselves, especially at night.
One important issue is women's access to water for agriculture. In some countries, land and water rights are reserved for male members of families. Women tend to be under represented in the planning of projects even though they have so much practical experience with water and sanitation. Water security is one of the most fundamental issues in developing countries.
For additional information, go to www.un.org/waterforlifedecade.
Vanessa Tobin
Chief, Water, Environment and Sanitation Section, U.N. Children's Fund (UNICEF)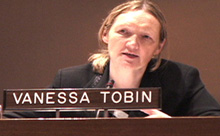 Vanessa Tobin spoke of the necessity to understand the problem of water in light of the culture at the application site. The urban poor, or those who are rural and isolated, may look on the provision of water, and who or what are the greatest needs, somewhat differently than we do. She gave as an example a sparsely populated village in Chad. Although a beautiful well had been put in place, no one was using it except for a few cattle. The villagers were still going 250 meters to draw water from a contaminated well. The villagers said, however, that the new well was only to be used for the needs of the extremely valuable cattle.
Only about half of the households in the world have household access to water. There is a great need for water and sanitation at schools and health clinics. Most schools in developing countries do not have adequate water or sanitation facilities. And even when systems are put in place, they are not always maintained. Spare parts and good management are important. New water projects need to be designed in cooperation with local people, taking into account the local way of life, and they must be designed to be sustainable.
Ms. Tobin concluded by saying that UNICEF has three current initiatives: to support rural water supplies and basic sanitation, especially in sub-Saharan Africa where the need is desperate; to provide hygiene training, outreach and support in the more than 50 percent of the world with no clean water or adequate sanitation; and to plan for response to emergencies such as those following the tsunami in a sustainable way to transition to the future.
Carlos Linares
Senior Water Policy Adviser, U.N. Development Programme (UNDP)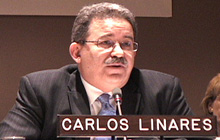 The work of the UNDP staff on the ground to address water development needs by working with other agencies and local residents was outlined by Mr. Linares. Working in Latin American, Caribbean, Asian and Middle Eastern countries, the focus of his section has been on development and environment issues. He stressed, however, that funding is falling short of the real needs of the Millennium Development Goals. Only $14 million is available for water projects.
Mr. Linares then listed ten examples of water projects currently being undertaken. Among these are approaches to ecological sanitation in Mexico, the protection of natural springs in Kenya, and regional dialogues among communities in working to protect the Mekong River. He stressed the need for communities on rivers to support, manage and develop a shared-use policy addressing the needs of all participants for water and sanitation. This referred back to his initial statement that local knowledge, control, management and sustainability are crucial.
Questions from the Floor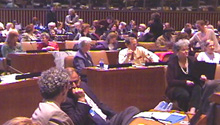 In response to questions from the floor, different speakers stated that they did not see the impact of the bottled-water industries as a good trend, that desalinization of salt water should only be considered as a last resort as it is very expensive, and shipping water is also very expensive.
A number of political issues were also discussed, such as the selling of water rights to companies from foreign countries. Many experts are in favor of local private-sector control of the delivery of water, but that ownership of the water supply is a different issue—a water supply should be seen as a public good. The speakers emphasized the fact that water is a political issue.
Afternoon Special Guest
Mrs. Nane Annan
Lawyer, artist and wife of Kofi Annan, UN Secretary-General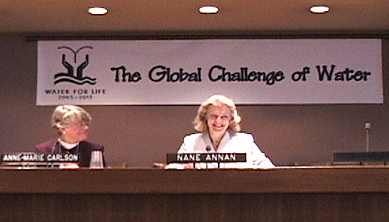 Before moving to New York in the early 1980s to pursue her interests in art, Mrs. Annan served as a lawyer in her native Sweden, working in the court system there and subsequently as a legal officer for the United Nations High Commissioner for Refugees in Geneva. In her capacity as wife of Secretary-General Kofi Annan, she often travels with him and visits U.N. projects. She is especially interested in issues concerning women and initiatives in which they have a chance to pull themselves out of poverty, beginning with girls' education. She is also the author of two books for children: The United Nations, Come Along With Me! and Tip and Top, The Adventure of Two Water Drops.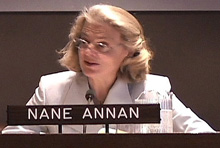 Mrs. Annan described the "WASH in Schools" global program, which was launched by UNICEF and the Water Supply and Sanitation Collaborative Council (WSSCC). The focus of this program is water, sanitation and hygiene. She has spent much time traveling to schools where children are part of WASH groups in which the importance of learning about these issues is stressed. "Young people are great agents for change," she said in explaining the importance of this project. In the course of her travels to schools, Mrs. Annan said, she has "come to appreciate ever more the role of teachers."
First Afternoon Panel
Innovations to Meet the Challenge
Carolyn Donovan
Primary NGO Representative for American Association of University Women and member of CTAUN, Moderator
Dr. Pradeep Aggarwal
Programme Manager, Water Resources, International Atomic Energy Agency (IAEA)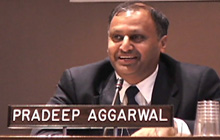 Dr. Aggarwal opened his talk by taking a sip from a glass of water. He explained that from his point of view as a scientist he wanted to know where that water came from and how old it is. Where does it go? How fast does it travel? Water molecules carry distinct "fingerprints" that make it possible to tell much about water sources from these data. Through isotope hydrology, it is possible to tell the origin, age, flow, size and other facts about a source of water. This information can aid in developing water policy and conservation. His agency is attempting to build a data set about water under the ground.
Dr. Aggarwal explained that when a source of water is young and recently derived from rain, it is renewable. When wells contain water that is found to be very old, it must be used with care so as not to exhaust the supply.
In discussing water in a desert, he said that the reason there are wells is because at some time in the past the climate was different, there was rain, and it went into underground aquifers. Aquifers are the equivalent to buckets of water underground. His agency works on such projects as tracing the source of arsenic poisoning in water in Bangladesh. They are, for instance, able to trace which aquifers need treatment and which do not.
Jim Bodenner
Thirsting to Serve, Rotary Clean Water Projects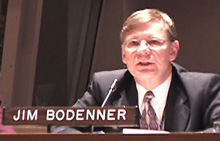 Mr. Bodenner described the Bio-Sand Water Filter, which is a type of water filter invented by Dr. David Manz of Canada that is small enough to be placed in a home to purify contaminated water. Dr. Manz offered the patent to humanitarian groups "free of charge, because in my view, providing safe, affordable drinking water is a basic human right." A Bio-Sand Filter (BSF) can be provided for approximately $50 to $60 dollars. "Thirsting to Serve" Rotary districts are cooperating with the Rotary clubs in developing areas and with the United Nations and non-governmental organizations to help local people learn to install and maintain these filters. Rotary is also now cooperating with micro-businesses in under-developed areas. In these activities, however, Mr. Bodenner said that "technology must be supported by education, education, and education."
Every Rotarian worldwide is being asked to participate in some way in a water project. Mr. Bodenner said that teachers are encouraged to motivate and mobilize their students and develop a willingness to take action. Educators who have an idea for a project are encouraged to contact their local Rotary to see whether a partnership would be possible, or whether there is currently a local Rotary project in which their students could participate.
Mr. Bodenner also announced that there would be World Water Day on March 22. For such occasions, sometimes children will organize a "Walk for Water," carrying a bottle of water for three miles, which is about the distance a woman in a developing country might have to walk for water. Through activities such as this, private organizations can help make governments aware of water as a basic human right.
Maria Smith-Nilson
Founder and Executive Director, Water 1st International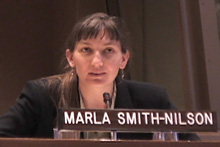 There is a need to make sure when water technology is initiated in a developing area, that what is installed is actually sustainable said Ms. Smith-Nilson. Among factors that make projects sustainable are that they are implemented with indigenous non-governmental organizations, that they are locally based, that there is local knowledge to work with the installation, and that those who are implementing the project can speak the local dialects. It is also necessary to have a commitment from local communities that they will be responsible for the long-term functioning of the project.
There is a need for new projects to be integrated with others that are being planned or are already in place. There is also a need in all communities for better protection of the water sources. Finally, Ms. Smith-Nilson joined many of the earlier speakers in stressing the importance of women's involvement in the planning and maintenance of projects.
Thomas Clasen
London School of Hygiene and Tropical Medicine, representing Verstergaard-Frandsen, Inc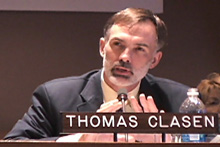 Mr. Clasen demonstrated and described the LifeStraw, a small and inexpensive device manufactured in Switzerland by Vestergaard-Frandsen, Inc., which can be used by an individual when drinking to ensure that the water is actually safe. He told about how he had practiced law for some 20 years in Latin America and had become keenly aware of water-connected problems there. Even when there are wells with safe water, by the time it gets home it may have become contaminated. Filters at the point of use are the most effective.
A LifeStraw is an enlarged drinking straw with built-in filters that will protect one person for about a year. It is particularly useful in preventing waterborne diseases like diarrhea and typhoid fever in emergency situations such as tsunamis, hurricanes, and earthquakes. It is also useful for people when away from home or working in the fields. The company that Mr. Clasen represents is also increasing its production capabilities to manufacture disease-resistant mosquito netting for the private sector.
Comment from the Floor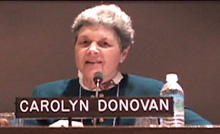 Carolyn Donovan, moderator of the panel, closed the session by reading aloud an anonymous comment that was handed up from the floor: "If the number of people dying monthly from water-related deaths equals the number of people who died in last year's tsunami, and if the number of deaths per day equals the number of people who die in a plane crash many times over and is more than the deaths of September 11, 2001, where are the people's outrage and action? How can we have the ability to respond and not the will?"
Second Afternoon Panel
Engaging Students to Find Solutions
Narin Stassis
First Vice-Chair of CTAUN, and ESL teacher and coordinator for the West Paterson School District in New Jersey, Moderator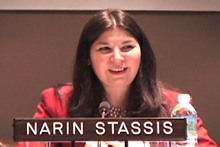 Ms. Stassis introduced the panel by pointing out that 2 billion of the world's population is under 18 years of age. It is important to understand how these young people view global problems today and what their contribution to solving them may be.
Magano Ickua
Brandeis University student; United Nations Department of Economic and Social Affairs intern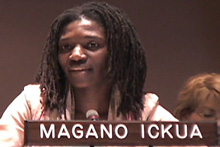 Ms. Ickua told how she grew up in a village in Namibia where one of her earliest duties was to fetch water. The women and girls rose before dawn to walk for two hours to the nearest water hole, and then two hours more to carry the heavy loads back home. By the time the girls got to school they were too tired to learn. Her family eventually moved to a mining town near the Orange River where they had a house in which they experienced for the first time the availability of running water and the joy of warm showers. Most people, however, do not have the option of leaving their villages, so the question becomes one of equalizing the standard of living between the villages and towns.
As water is needed for every aspect of household and farm activity, including the care of HIV/AIDS patients, and as women are expected to provide it, any improvement in its availability benefits women and girls. Community based "water points" are being built – supervised by women – and latrines for girls at schools. Only a few months ago electricity came to her village. Access to water is an aspect of poverty reduction, but the real issue is the equality of women in labor and decision making. Ms. Ickua closed by saying that before she came to university, she just took poverty for granted—"this is how things are." Now she is able to see it as part of a broader worldwide social issue.
Lorraine Loken
Water Environment Federation, and David Kashi, New York State Recipient of the Stockholm Junior Water Prize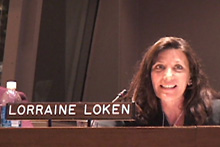 Ms. Loken gave some background to the Stockholm Water Prize, modeled on the Nobel Prizes. A Junior Prize was inaugurated in 1997 with HRH Crown Princess Victoria as it patroness and sponsored by ITT and Coca Cola. There are 250 participants at the local level. David Kashi is the New York State winner. There is a pressing need to attract the best and brightest to dealing with innovation in water technology. Fifty percent of the present workforce in the field will be retiring in the next ten years. The average age of physicists working at the Nobel Prize level of research is 23.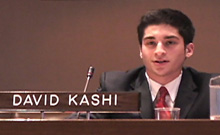 David Kashi is a senior at the Solomon Schechter High School in New York City and volunteers with local EMS units. He studied the ways in which cholera is distributed through natural water resources. Poor sanitation enables the diarrhea, which is the usual cholera vector, to infect water resources through contact with sewage, but there is another way. David found that mosquitoes can also be a vector, and that colonies of mosquitoes can carry the infection to good sources of water also. He showed a new perspective on the disease that had not been previously considered.
Faye Keller
Pumped Up for Peace, and Henna Saljooki, Long Island (NY) student, Half Hollow Hills High School East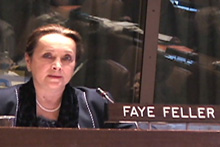 Ms. Keller explained how Pumped Up for Peace has inaugurated many programs between schools in the United States and projects in developing countries. This organization is one of the ways in which the Decade for Education on Sustainable Development can be realized. More information about it can be accessed on www.cyberschoolbus.un.org.
Henna Saljooki, whose family is from Afghanistan and who is a student at Half Hollow High School on Long Island, described the activities of a club at her school, Magenta and the Magic Cloth. It is a fashion club the aim of which is to raise money to contribute toward making clean drinking water resources available to villages in the developing world. The color magenta represents water and the interwoven threads of cloth connect people.
In one project, the students used material such as old jeans to make and decorate bags in their fashion clubs and filled the bags with toilet articles and school supplies. They have also had fashion shows at school as well as sales and exhibitions to raise money. Proceeds from these projects, along with the bags they had made, were sent to Peru. Henna was thrilled to see a photo of a girl wearing a bag she had designed! They have raised thousands of dollars to construct wells in villages so that the children have time to go to school. The club raises people's awareness of how much water is wasted when we run long showers or wash our cars. It gives young people a way to help others, and demonstrates how through an interest in fashion students can starts similar clubs in their schools. One person can make an impact – an important message to both teachers and students.
Closing Keynote Address
Dr. Peter Gleick
Co-Founder and President, Pacific Institute for Studies in Development, Environment and Security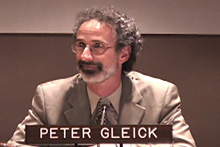 As he opened his remarks, Dr. Gleick directly addressed the teachers in the audience: "Teaching is the toughest and most important job there is, and kids are natural scientists, so go to it! They must realize that 'water is the tie that binds' at the core of the care of the whole planet." He went on to say that we face enormous challenges around the world. This is especially true with water and the environment. There are plenty of old problems we have failed to address as well as many new problems that arise. These are not necessarily irreversible, however, because different ways of thinking and smart and innovative solutions, such as have been presented at these sessions, reveal more options.
In a comprehensive overview, Dr. Gleick described two main ways of dealing with water challenges that have emerged. The "hard" path recognized throughout the twentieth century relies on large, concrete, centrally administered projects that deliver and take away at enormous benefit and enormous cost. Even while these programs have resulted in treated drinking water, the curbing of typhoid, numerous economic, social and sometimes environmental improvements for some, this path alone is not enough and will not reach the millennium goals for 2015. But the second, the "soft" path, while drawing upon centralizing information, complements the investments of the first path by decentralizing particularly the social side of our systems by delivering to diversified needs at the community level.
We now certainly have crises, but many are humanly and usually politically driven and therefore inexcusable. Dr. Gleick cited the fact that although arsenic was discovered in wells in Bangladesh ten years ago, the population is still drinking this water because the social and distribution issues remain unsolved. He went on to mention various historic conflicts from ancient times to the present over water sources and distribution. Dr. Gleick stressed that the environment is definitely altering and is specifically threatened by human activity. Some rivers no longer reach their deltas and biological and chemical contaminants, which in the 1960's were pretty well known, are now developing further complications requiring better monitoring and quality enforcement. But there seems to be a well-connected capacity, perhaps campaign, to ignore these conditions, and not only in the United States.
Teachers have long taught the hydrologic cycle of precipitation, evaporation, and run off, but need to expand it to the "hydro-political cycle," which will involve seeing that politicians are trained to understand engineering. Politically complex and dangerous situations of this millennium arise because half the land of the planet has hydrological/water-based problems stemming from shared boundaries and nervous neighbors. Dr. Gleick also emphasized certain connections: crises worsen because the population is growing and the amount of water is fixed; there is no problem that is not made worse by population pressure; it is critical to notice and act upon the fact that educated women are less likely to have too many children. So far solutions, especially for water supply and sanitation problems, are inadequate to deal with issues of scale, but it is also indisputable that we have the money if we choose to spend it in the right ways.
Dr. Gleick maintained that the water crisis is resolvable—absolute scarcity is not the problem. It is the unevenness of distribution that is the problem. The "soft" path emphasizes sustainability. The "hard" path has many costs that need revising to different standards of impact particularly on the economy and the environment. We have the technology to rethink the use of rainwater and the treatment of wastewater. Why, for example, are golf courses and toilets still using potable water? The goal is quality of life delivered by governments and services. Rethinking the efficiency of water use is essential both locally and globally. The U.S. already uses less water than twenty years ago despite its larger population and economy for two reasons: efficiency and a change toward a service economy.
Smart economies view water both as an economic good to be paid for and also as a social good to be protected in the public interest and supplied free if necessary. Often the most effective program is locally designed, especially when local people are not urban and live in families. Dr. Gleick is optimistic that transition to the "soft" path is already underway and will become more apparent as we become increasingly aware of the technical innovations and the social implications of how we manage the world's water.
Other Highlights
Videos. The conference opened with the showing of the video Water "Drop of Life" and closed with the video Splish and Splash. Both were produced for the Water for Life Decade and can be accessed from the Resource Materials and Education and Youth pages of www.un.org/waterforlifedecade.
CTAUN's 2005 Best Practices Award.
Awards for the best educational practices developed from the 2005 CTAUN Conferences were presented by Phyllis Hickey, Second Vice-Chair of CTAUN and principal of the Plainfield Catholic School in Plainfield, Connecticut. Recipients of the award also received a copy of the book Water, the Drop of Life by Peter Swanson and a copy of the book Tip and Top, The Adventures of Two Water Drops personally autographed by its author Mrs. Nane Annan.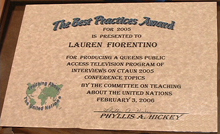 The first award was presented to Lauren Fiorentino, a television producer through Queens Public Access TV. She produced a ½ hour show entitled "A World Out of Balance: Seeking Solutions Through Education and the United Nations." Members of the Garden City Long Island branch of the American Association of University Women participated in the dialogue throughout the TV program, which was viewed by many in the community at large.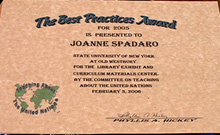 The second award went to Dr. Diana Papademas, who was the coordinator of the U.N. Project at the State University of New York/Old Westbury. The library exhibit and curriculum materials center were the special projects that complemented the instructional component offered at the college. The integration of the instructional component with an exhibit and the assembling of a curriculum resource collection suggest an adaptable model for other schools and colleges. The exhibit was designed to display compelling U.N. materials, publications, and posters on the global themes of peace, development and human rights, all of which enriches instruction in cross-cultural analysis.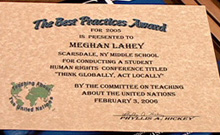 The third award was presented to Meghan Lahey and Emma Wixted from Scarsdale Middle School, Scarsdale, New York. They coordinated a full-day conference for 1200 middle school students entitled "Think Globally, Act Locally: Individuals Making a Difference in the World." The conference also celebrated the 60th anniversary of the United Nations, which has served as a model for how the international community can come together to ensure peace, promote tolerance, respond to humanitarian disasters, and thus inspire students to take action. The conference featured keynote speakers, and the students attended breakout forums throughout the day. Plans have already begun for a second conference this coming spring.
Info Fair
CTAUN's Info Fair was held from 12:00 noon to 1:45 p.m. in the exhibit area of the U.N. Informational resources about programs designed to address problems related to water and the environment were made available for educators. Books, posters and leaflets that explain projects, along with DVDs and other media of use to educators, were made available to Conference attendees.
Info Fair Exhibitors
Facing the Future: People and the Planet – Kim Rakow BemIer, Outreach Director (www.facingthefuture.org) A Seattle-based nonprofit organization bringing global education to middle and high school students and curriculum development to teachers. Publishes a colorful and informative paperback text "Its All Connected: A Comprehensive Guide to Global Issues and Sustainable Solutions" and a "Facing the Future" Curriculum Guide. Will also tailor teacher workshops to your district's needs.
Food and Agriculture Organization of the United Nations (FAO) – Linda Murray, Communications & Information Assistant (www.fao.org) Working In both developed and developing countries, FAO leads international efforts to defeat hunger. Focuses on modernizing and improving agriculture, forestry and fisheries practices and serves as a neutral forum where nations can meet to negotiate agreements and debate policy.
Jennifer Croson, Art teacher at the Marymount School (jennifer_croson@marymount.k-12.ny.us ) Specializes in water projects with very young students and upper level high school. Their work has been exhibited at the UN, the A.I.R. gallery in NY and in The Hague; provides how-to information for teachers.
International Education and Resource Network (I*EARN) – Lisa Jobson, Associate Director (www.learn.org) Uses the Internet to promote teacher training and interactive, project-based partnerships among schools in 115 countries, including a number of projects on water.
Oxfam America – Nancy Delaney, Outreach Manager (www.oxfam.org) Through collective efforts with partners in more than 100 countries, works to provide rapid response. In emergency situations, provides water and sanitation delivery, and lobbies to change international policy to ensure that the poor have the resources they need. Has promoted a global emergency fund that would keep money in reserve before humanitarian disasters occur.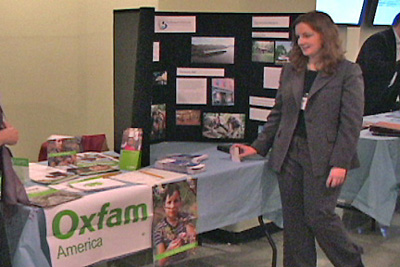 Pacific Village Institute – John Eastman, Co-founder (www.pacificvillage.org) Connects global citizens through cultural immersion, community service and collaborative projects in the developing countries of Asia; conducts forums for educators in China, India, the Himalayas and Vietnam to improve Asia-related education in the U.S.; uses water as a theme in study abroad programs.
Peace Corps (World Wise Schools) – Molly Jennings, Public Affairs Officer, NY Regional Office (www.peacecorps.gov/worldwiseschools) Website offers stories, classroom resources and ideas for service projects based on the experiences of Peace Corps volunteers worldwide – includes research material and Peace Corps volunteer simulation on water Issues; publishes WorldView Magazine – Winter 2005 Issue is devoted to water.
Pumped Up for Peace – Faye Feller, Director (www.un.org/cyberschoolbus/pufp/peru/ ) A new project sponsored by the UN Cyberschoolbus to rally teachers and students to design creative fund raising projects aimed at installing filtration systems and water pumps in developing communities – the first will be in Huacaria, Peru.
Pure Water for the World – Carolyn Crowley Meub, Executive Director (www.purewaterfortheworld.org) With grants from the Rotary Foundation, manufactures and installs water filters providing sustainable clean drinking water to families and communities in developing countries, with a major project in Honduras.
Rivers and Estuaries Center – Sr. Brigid Driscoll, Program Manager (www.riversandestuaries.org) A forum for research dedicated to advancing understanding of the cultural, historical, social and artistic aspects of rivers to those who live and govern in the Hudson River watershed; serves as a guide for conservation policy.
Thirsting to Serve – Jim Bodenner, Michigan Rotarian (www.thirstingtoserve.org) In conjunction with Rotary International makes the bio-sand water filter aimed at affordable water purification available in developing countries.
United Nations Children's Fund (UNICEF) – Donna Goodman, Consultant – Water, Environment & Sanitation (WES) Section (www.unicef.org) Works in 161 countries and territories in the areas of disease prevention, safe childbirth, nutrition, sanitation and education; provides emergency response to global crises; website has resources for students and teachers, including a "Water Alert" game and a section called "Voices of Youth".
United Nations Department of Economic and Social Affairs (DESA) – Marcia Brewster, Sr. Officer (www.un.org/esa/sustdev/) The International Decade for Action: Water for Life 2OO5~2O15 (www.un.org/waterforlifedecade) galvanizes efforts to meet the internationally-agreed target of halving the number of people without access to safe drinking water by 2015. The Interagency Task Force on Gender and Water has been formed and two booklets for students: "Water for Life Decade" and "Everybody Counts, Every Drop Matters" are available.
United Nations Educational Outreach Section
Department of Public Information (DPI)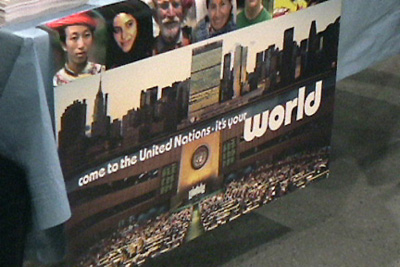 Cyberschoolbus – Bill Yotive (www.cyberschoolbus.un.org) An online resource disseminating information on international issues and the UN through teaching materials and activities designed for use at primary, intermediate and secondary levels, and for teacher training; sponsors Pumped Up for Peace project (see above)
UN Chronicle – Belal Hassan (www.un.org/chronicle) The magazine of the United Nations with articles on global issues on the UN agenda, economic and social development, the arts in a global context, etc.
UN Works – Carmel Mulvany, Belal Hassan (www.un.org/works ) Produces emotionally gripping videos, using celebrity narrators, on global issues from the perspective of children in country; offers a website featuring the stories of men, women and children who have benefited from the UN's work.
United Nations Development Programme (UNDP) – Vivienne Caballero, Programme Officer (www.undp.org) The UN's global development network, working in 166 countries to increase local capacity to find solutions to development challenges; focus is on democratic governance, poverty reduction, crisis prevention and recovery, energy and environment, and HIV/AIDS; publishes a magazine, CHOICES, on global issues.
United Nations Environmental Programme (UNEP) – James Sniffen, Information Officer (www.nyo.unep.org) Informs and affects policy on environmental issues in governments, the UN Secretariat, civil society and the media; sponsors events such as World Environment Day and Earth Day; publishes materials for teachers and students at all levels: including "Water World: Children's Voices" (available in UN bookstore), "Our Planet" and "Tunza" magazines, "GeoActive" CD and a binder of "Vital Water Graphics" – transparencies and CD.
Vestergaard-Frandsen – Allan Mortensen, regional director (www.vestergaard-frandsen.com) or (www.lifestraw.com) A Swiss company, designer of 'LifeStraw', an enlarged drinking straw that uses seven types of filters, including mesh, active carbon and iodine to make 185 gallons of water clean enough to drink; it can prevent water-bourne diseases like typhoid and diarrhea to which victims of earthquakes, hurricanes and other disasters are particularly susceptible.
Water Aid America – Emily Boyd-Carpenter, American Representative (www.wateraid.org) A UK-based organization dedicated to providing safe domestic water, hygiene and sanitation education to the world's poorest countries; website has a variety of resources teachers and students including a game, information on the countries in which WaterAid works, and personal stories from children living there.
Water Environment Federation (WEF) – Lorraine V. Loken, Sr. Manager, Public Education (www.wef.org) Sponsors the Stockholm Junior Water Prize, the most prestigious international award for a high school water science project – to sensitize future leaders to global water challenges.
Water 1st International – Maria Smith Nilson, Founder & Director (www.water1st.org) Supports local community implemented and managed projects that integrate water supply, sanitation and health education and fosters a person-to-person connection by educating people in the US through materials and workshops, about water issues.
Water for People – Robert Adamski, NY Representative (www.waterforpeople.org) An international Denver-based non-profit development organization which provides community hand pumps, school hand-washing stations, gravity-fed water systems, household latrines and health & hygiene education through in-country partnerships.