CTAUN's 2004 BEST PRACTICES AWARD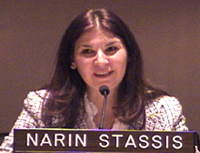 The CTAUN Session, presided over by Narin Stassis, First Vice-Chair and Phyllis Hickey, Second Vice-Chair of CTAUN presented the Best Practices Award to Dianne Kehoe of the Richmond Academy in Louisdale, Nova Scotia. Ms. Kehoe's 12th grade students engaged in money-raising activities to support the UNICEF teacher education project in Afghanistan.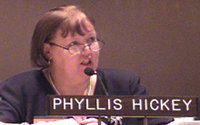 Their donation of $750 will pay the salary of a teacher for one year. The class then formed an Interact Club with the support of a nearby Rotary International Club to set up communications with students in Nepal, a country similar in size and population to their own province of Nova Scotia.