Two Best Practices Awards were given out at the 16th Annual CTAUN Conference held at UN Headquarters on 30 January 2015.   Both projects were inspired by the 2014 Conference "Promoting Peace Through Education".  Here are the winners' descriptions of their projects:
CELEBRATING PEACE DAY 2014:  AN ENRICHED GLOBAL PERSPECTIVE
P.S. 199, Brooklyn, New York — Lisa Fernandez, Principal of Peace, Lfernan5@schools.nyc.gov  and Kate Judge Patton, Art Educator, cjudgepatton@schools.nyc.gov
Since 2006, Peace Day has been an integral part of the peace practices of PS 119. Peace is an essential element of learning for all, but especially so for marginalized communities where families struggle for their basic needs.  As a Title One school with a diverse population of immigrants from across the globe, we teach our students that peace is the answer to conflict and show them how to choose a peaceful existence.  Each day at PS119 is rooted with the recitation of the Peace Builders Pledge.  As the words are spoken, we accept our personal responsibility as human beings.  Each year classes seek out notable Peace Builders to learn about their lives, and approaches to peace. Designed as banners, these collective projects are brought to the rally where classes share the history of individuals who have made an impact with peace.  Employing a code of Peace Building in the school is also supported with Heartwood's Ethics curriculum. These tools, in the hands of caring, cooperating educators, parents and children, create socially aware citizens.  Weaving students, neighbors, local business owners, artists, civic groups together on Peace Day has established a community wholeness that had not previously existed.  As a Service Learning School of Excellence, we reach to recognize the world beyond ourselves.  Each year new friends are asked to join our "Peace Train," to share in our rally, and march with us for Peace.
We could strongly relate to the ideas of Tony Jenkins from CTAUN's 2014 Promoting Peace Through Education Conference, as he discussed the five focal points of the National Peace Academy.   Our students are taught daily the Personal, Social, Institutional and Ecological aspects of Peace building.  Yet, our students needed a starting point to learn about the Political realm of Peace.  We constructed to do this by introducing them to the United Nations, the challenges of its inception and the celebration of its 70th Anniversary.
A specific goal of this year's celebration was to build upon our students' sense of personal responsibility as peace builders and to consider the global landscape of peace building through the lens of the United Nations.   Educator, Eileen Venezia, UN NGO & Director at Large, visited classrooms and hosted student interviews.  She expanded the minds of all present when she read the Preamble of the Human Bill of Rights at the opening of our 2014 Peace Rally.  Ms. Venezia presided over a special planting in honor of the UN's 70th Anniversary where students read from the United Nations Charter during a ceremonial planting in our peace garden.  The introduction of these declarations create a context for a dialogue of Political Peace as we develop a global framework to continue to educate for a culture of peace, one child at a time.
MINDFULNESS AND PEACEKEEPERS PROJECT
United Nations School (UNIS), Manhattan —  Charlotte Mourlot – cmourlot@gmail.com and Karen Ager – kazzager@aol.com
The Mindfulness and Peacekeepers Project combines essential elements of the 2014 CTAUN Conference on 'Promoting Peace Through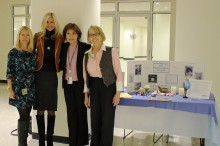 Education' and strongly reflects the Mission of the United Nations International School. The Mission of UNIS is to inspire students to build a "peaceful, compassionate and sustainable" world.
Circles of Peace and Mindfulness
Daily peace circle routines were established in an elementary classroom. The Circles of Peace and Mindfulness include vibrational sound rituals, focused attention on the breath, positive affirmations and discussions about the importance of a 'kind heart.' The Circles of Peace motivate the children to become calmer, more compassionate, focused and ready to learn. Students also appear to develop an awareness of the importance of  'quiet, peaceful time' for their own well-being and success. Additionally, a calming classroom atmosphere was created with special attention to aromatherapy, lighting, textures, and sounds.
Peacekeepers and Peace Tables
Twenty Grade Three and Four students act as Peacekeepers and mentors in the elementary school. They are trained to discuss and talk about ways to help fellow students resolve conflict using the Peace Table and playground Peace Bench. Peacekeeping and conflict resolution strategies include: establishing Essential Agreements for Peace Table use, mediation through role playing, active listening and quiet reflection, and the identification of inappropriate behaviors during conflict.