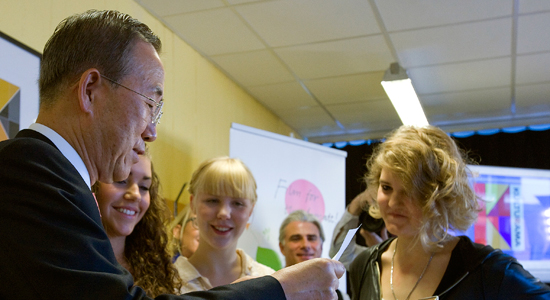 "As educators…you can help students grow into…a global civic identity and understand how their decisions have an impact ranging well beyond their immediate vicinity. The United Nations is uniquely placed to work with you in instilling a sense of global citizenship in today's youth."

~Former Secretary-General Ban Ki-moon, 30 January 2009
ANNOUNCEMENTS
UPCOMING CONFERENCES:
NEW YORK at UN Headquarters
- 19th Annual CTAUN Conference - 6th April 2018 "Stepping Up to Protect the World's Children"
For details click here
University of North Georgia
- The first CTAUN Conference at UNG "Empowering Educators: Taking Action Locally and Globally" will take place on 24 February 2018 For details click here
PAST CONFERENCES:
To read reports on past Conferences click the "CONFERENCES" tab and then click on any of the individual Conferences listed on the left hand index
Oklahoma
The first CTAUN Conference in Oklahoma "Empower Women: Change the World" was held Saturday, 8 April 2017 at the University of Central Oklahoma. For details click here
UN Headquarters NY
The 2017 CTAUN Conference at the UN "Refugees: The 21st Century Challenge" was held Friday, 27 January 2017 For details click here
Remembering CTAUN founder
BARBARA WALKER
The UN now offers Tours for Children
- specifically geared for elementary grades. For more information, and to book a tour,
click here
Check out our TEACHER RESOURCES
CTAUN provides educators worldwide with opportunities to learn about the work of the United Nations and to incorporate this global awareness into curricula and school activities at all levels.
We organize conferences to bring educators together with international experts at the United Nations and around the country.
We facilitate curriculum development on international issues.
Through Excellence in Education Awards, we recognize teachers' hard work, dedication, creativity and resourcefulness.
We believe with Nelson Mandela that "Education is the most powerful weapon which you can use to change the world."
Friday, April 6, 2018
19th CTAUN Conference at UN Headquarters in New York
STEPPING UP TO PROTECT THE WORLD'S CHILDREN
Read the concept note of this all-day event on the

2018 Conference

page.   To register for the conference please

click here
Check out the "Awards" page to learn about our Excellence in Education Award and the College Students Poster Contest
The Sustainable Development Goals (SDGs) are for everyone and everyone needs to know about them and help in their implementation.    Looking for inspiration to teach about the Sustainable Development Goals?  Visit The Worlds Largest Lesson
Check out our other TEACHER RESOURCES 

Visit us on Facebook
Education is a human right with immense power to transform.  On its foundation rest the cornerstones of freedom, democracy and sustainable human development.   —  Kofi Annan
---